Hot Stories
It's a really good phone, but I honestly don't know who it's for & More Latest News Here
Roughly 99% of humanity can be made up of the layer that does not deal with the technical parameters of smartphones in a way of life with Iranian fandom. For them, phones are all pretty much the same, and when they buy, they mostly choose based on brand loyalty and, of course, price, and it's not easy for anyone to flash so much that it overrides their habits. That is why, when a new phone is released, the question is always what is interesting about it, what is different from the others, what makes it exciting. In the case of the Honor 70, the answer to this is something like that it is Huawei that has smuggled Google back into it.
Okay, now we've managed to insult three giant companies in one sentence, so we'll have to run around to understand the background.
Huawei is a Chinese giant company, it has been among the three largest in the world in smartphones for quite some time, but it is the world leader in telecommunications infrastructure, especially 5G. That's why there was a huge scandal when, a few years ago, in one of the important battles of the US-China trade war, the Americans put the company on the blacklist, citing that it poses a national security risk if the Chinese build 5G networks, because who knows what spy holes and other sprinkle it full of tank traps. Because of this, Huawei's phone division was also in trouble, as all this meant that an Android phone would be stripped of its operating system and all Google products. Since then, the test of every Huawei phone can be summed up as "good, good, but who the hell wants/can live without Google".
Honor was originally a sub-brand of Huawei for cheap phones, then it became an escape route from the American embargo: the brand was sold at the end of 2020, which escaped the American sanctions and allowed the Google ecosystem to return. One more detour, and then we'll really get down to the phone. Who owns Huawei and who owns Honor? Well, this is not a simple question, many people have already tried to untangle the threads, and the general consensus is that, in the end, the Chinese state is the ultimate controller in both cases.
So here we have the Honor 70
This is not the first phone of Honor, which is independent from Huawei, to get Google back, that was the Honor 50 at the end of last year (which showed almost copy-paste similarities with the Huawei Nova 9, except of course for the unsanctioned from the software side). And now here is the 70, which Honor is pushing with serious marketing, apparently intended as a miracle weapon to win back lost Huawei users.
The wonder weapon starts off by saying that the Honor 70 definitely looks good. Premium exterior, I would say if I were talking marketing bullshit, but really: it looks like a more expensive and higher quality phone than it actually is. The two large camera-booms on the back are quite spectacular, the rounded display and the picture are also quite beautiful – you will inevitably catch your eye on it. Although it is a good question whether there will still be people in 2022 for whom this is important in a phone.
Let's run through the most important technical details:
It is based on a Snapdragon 778G chip, it's a one-year-old, upper-midrange processor, like the Samsung Galaxy A73, for example, which is still far from the top category, but easily above the price of the Honor 70
Its display is OLED, 1080*2400 resolution, 120 Hz refresh rate, 6.67 inches
Its battery is 4800 mAh, which sounds pretty good on paper
Its cameras are 54 + 50 + 32 megapixels (main camera, wide-angle, selfie) and it uses Sony's wild new IMX800 sensor, which – on paper at least – is quite a banger
So, based on the mere data, it has everything you would expect from a powerful mid-range phone. But let's see the same in practice!
The first impression is that the Honor 70 feels surprisingly light and thin, but this is actually only an illusion given by the clever design: the weight of 178 grams and the thickness of 8 millimeters are just below the average. The display image is very nice, the colors are vivid, even watching a movie is surprisingly good on it. Of course, apart from the fact that due to the sheer size, this is obviously basically a pain – so this half-sentence should be understood more as if I wrote about a bicycle, that it is surprisingly easy to transport an Ikea wardrobe with it.
The hardware, although not the strongest on paper, took everything in practice without any problems, and the games also cracked according to its order and manner. The battery can easily last a day, two can hardly last, but it doesn't seem realistic that we won't be near a charger for that long. It charges to around 70% in half an hour, it takes more than an hour to fully charge (there is no wireless option).
His cameras are highly praised all over the net, even as an absolute sow photographer I thought I could notice the automatic digital post-processing on the pictures, somehow the color world felt a little too soft, as if there was a breath of tiktok beauty filter on everything. It is said in several places that he takes "social media ready" photos, well, yes, just like that. It doesn't have an optical zoom or image stabilizer, but in poor lighting conditions, especially in the dark, its images are surprisingly good, natural and rich in detail (in return, it takes a very long time to make an exposure in the dark). In the video, the most advertised novelty is the "solo cut" mode, which is a strange picture-in-picture solution, it keeps the focus on one figure in the picture and also makes a separate video of it (I also tried with a cat, but it was not compatible with it), that this for what good, that's a good question, but you know that.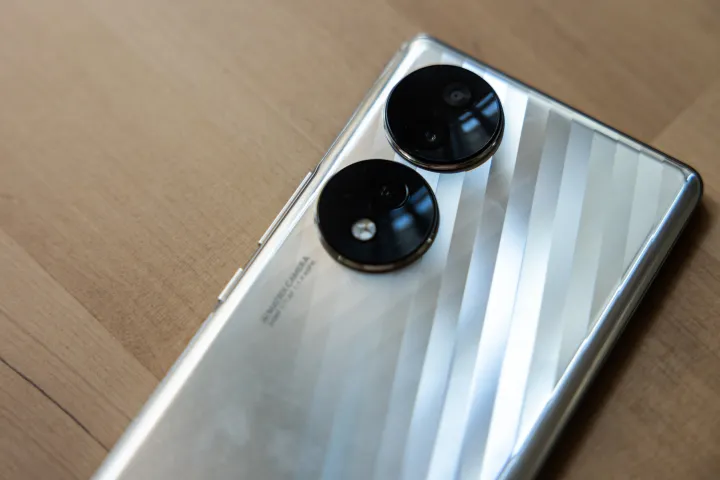 And of course, from the perspective of the Huawei/Honor universe, its biggest strength is that it has all the Google features, which is obviously nothing extra, and you only realize how important they are when you're missing them. Who would have thought that Zorán aimed at the user experience of Huawei owners by saying
To understand what a glass of water is worth

It needs heat, it needs a desert
Speaking of water and the desert, the Honor 70 does not have an official dust and water resistance classification, which of course may still make it somewhat resistant, but one is reluctant to try it out in the open. (Interestingly, this is usually not important for Chinese manufacturers, not even for a lot of Xiaomi models.) Recently, it is very fashionable to boast about the protection of the display, with all kinds of versions of Gorilla Glass, and with fantasy names suitable for Marvel comics; well, there's no such thing here, as if Honor doesn't really consider it important.
Well, now I'm going to spoil the mood of everyone who has been thinking that this looks like a really good phone. Because that's what it seems, except. The price of the Honor 70 starts at HUF 240,000, which roughly puts it in the same price category as the discounted phones of premium manufacturers, and the flagship killerare played by devices nicknamed, that is, those that know a little less than the top category, but much cheaper. So, in terms of price, the Honor 70's direct competitors are roughly the iPhone SE, Galaxy S21 FE, Oneplus 9, or Xiaomi 12X. And to be honest, it's pretty hard to find anything that makes the Honor 70 stand out from this field. What's more, its competitors at a similar price really all tick it off either in terms of knowledge or the power of the brand name. This makes it a completely correct phone, and if the price had been positioned, say, a good 50,000 lower, it could be recommended with an easy heart (at the same time, we welcome the collapsed HUF exchange rate).
I have tried to give all kinds of news to all of you latest news today 2022 through this website and you are going to like all this news very much because all the news we always give in this news is always there. It is on trending topic and whatever the latest news was
it was always our effort to reach you that you keep getting the Electricity News, Degree News, Donate News, Bitcoin News, Trading News, Real Estate News, Gaming News, Trending News, Digital Marketing, Telecom News, Beauty News, Banking News, Travel News, Health News, Cryptocurrency News, Claim News latest news and you always keep getting the information of news through us for free and also tell you people. Give that whatever information related to other types of news will be
All this news that I have made and shared for you people, you will like it very much and in it we keep bringing topics for you people like every time so that you keep getting news information like trending topics and you It is our goal to be able to get
all kinds of news without going through us so that we can reach you the latest and best news for free so that you can move ahead further by getting the information of that news together with you. Later on, we will continue
to give information about more today world news update types of latest news through posts on our website so that you always keep moving forward in that news and whatever kind of information will be there, it will definitely be conveyed to you people.
All this news that I have brought up to you or will be the most different and best news that you people are not going to get anywhere, along with the information Trending News, Breaking News, Health News, Science News, Sports News, Entertainment News, Technology News, Business News, World News of this made available to all of you so that you are always connected with the news, stay ahead in the matter and keep getting today news all types of news for free till today so that you can get the news by getting it. Always take two steps forward