Hot Stories
Residents continue to be taught to save energy: costs can be reduced by up to a third for this season 7 & More Latest News Here
Savings measures are divided into three groups: behavioral measures (allowing to save 5-20 percent of energy), quick payback measures (10-30 percent), long-term measures (30-50 percent).
"The form is more convenient and understandable for residents. Our aim is to make it a 'living' document in use. If you, as a resident, have questions about what you could do to save and spend less, you could open up and find constantly updated information in one place in a convenient form", says the agency's advisor Agnė Bagočiutė.
The comfort of life should not deteriorate
According to the agency, a resident who takes active steps can reach even 20-60 percent. lower costs compared to a resident who takes no action.
Energy efficiency analyst Ričardas Masiulionis presented several steps for energy saving and cost reduction: look around, dig deeper, don't waste and invest.
Appliance energy consumption
© Lithuanian Energy Agency
"We encourage you to look around: we have identified three main groups of actions for residents: to work remotely, the saving potential can reach 15%. Next – reducing the temperature in the rooms – saving potential of 5-10 percent. Use the washing machine efficiently – you can save up to 10%. energy. It should be emphasized that the call to look around and change habits will not change the comfort of life too much", says R. Masiulionis.
Another set of actions is to dig deeper and find out what is consuming the most electricity from appliances.
"A hair dryer would consume a kilowatt-hour in 25 minutes, an LED bulb in 142 hours. Changing behavior by turning off the most powerful devices will have the greatest effect. Turning off the kettle once or pouring less water can save more than turning off the LED lights several times," said the expert.
Another group of actions is not to waste energy: updating devices and systems. For example, to remove leaks in windows and doors; do not install heating devices (radiators) with furniture or other objects; maintain heating and hot water systems.
Finally, home modernization and the purchase of electric cars are encouraged.
The agency promises that a telephone line for savings questions will be installed for residents.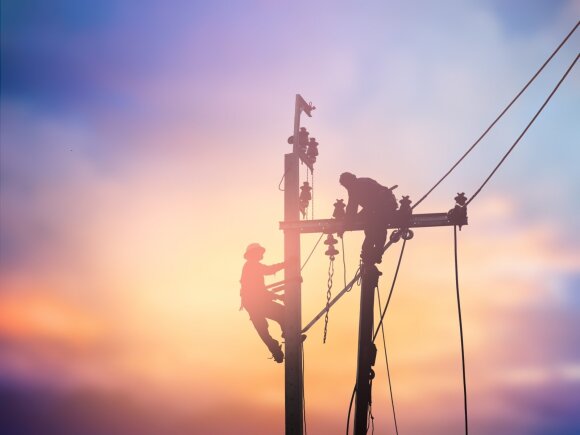 Electricity
As already announced, a week ago the Government approved the energy saving measures and recommendations proposed by the Ministry of Energy, which would allow to reduce energy costs by 800 million within two years. euros.
The Ministry announced that a total of 1.3 billion will be allocated to increase energy efficiency through support measures in 2021-2027. EUR, of which 207 million for the public sector. euros, for residents – 900 million. EUR, for business – 225 million. euros.
The LEA says the ministry also followed the agency's recommendations when developing its plan. Advice from the Lithuanian Energy Agency is available on its website.
"The uniqueness is that all the measures where there is state aid are linked directly to where that aid is delivered," says its director Virgilijus Poderys about the measures presented by the agency.
Assessed the outlook for gas prices
LEA energy security project manager Vytautas Budreika says that futures contracts show that a noticeable drop in the price of gas is expected only after a year and a half. The electricity market price is closely related to the gas price.
"We took a quick look at how futures are looking right now. A more significant drop in gas is predicted in the spring of 2024, and we will return to the 2021 prices of 40 euros per MWh only in 2027. But this is only the opinion of market participants', said V. Budreika.
Gas storage in Europe, despite the interruption of the gas flow through the Nord Stream gas pipeline, has already reached 80% filling, continues and may reach 100% already in October. However, Latvia's Inčukalnis gas storage is being filled slowly.
"As for the Klaipėda LNG terminal, as the main source of gas in the Baltic countries, its usefulness has started to grow since the beginning of the war. This year, during the months of January-August, more gas was imported through the terminal than in 2019-2021. This year will be a record year for the terminal.
However, this does not mean a record year for the Inčukalnis storage facility (…) It will not be possible to reach even 60% by the heating season", says V. Budreika.
According to him, the Baltic countries should have enough gas in the winter.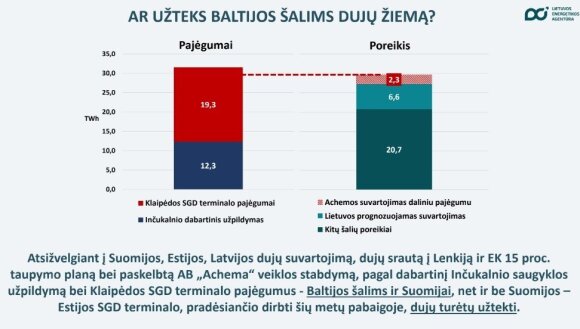 Baltic countries and gas
© Lithuanian Energy Agency
"We see that, at least theoretically, there should be enough gas. If the Finnish and Estonian terminal appears, the situation should be easier," said the expert.
The LEA points out that for the first half of the heating season, almost twice as much biofuel has been purchased in the country than in the previous year at the same time (38 percent now, compared to 22 percent at the same time last year). It is true that the price of biofuel is increasing.
The company "Ignitis" has purchased gas to ensure supply to domestic consumers. Heat producers have purchased gas for the winter, but most of them will not pay for it at the pre-agreed price, but at the future price on the exchange. Vilnius purchased fuel oil for heating to replace the more expensive gas.
When the European Commission submitted proposals for reducing energy prices, V. Poderys says that a more favorable proposal for Lithuania would be to set a "ceiling" for the price of gas, rather than the distribution of surplus profits of non-gas electricity producers.
"(It is possible) to intervene in the electricity or gas market. I would agree with the expert side that it is necessary to intervene in the gas market. In the Pyrenees, the price of gas generators has decreased. Then transferred to the electricity market.
Continuing the intervention in the electricity market, where extra profits are taken from non-gas generators, I will repeat that we have nothing to take from and we are not guaranteed that the exporting (electricity) countries will want to share the income", says V. Poderys.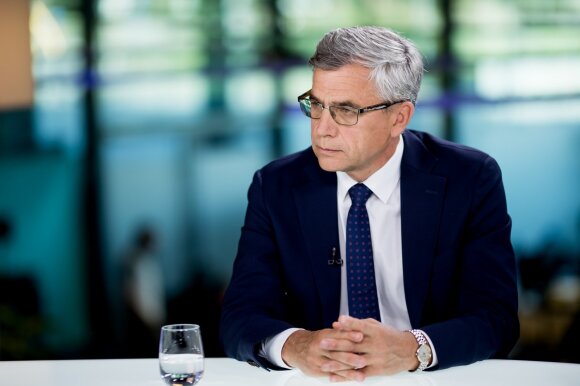 Virgilius Poderys
© DELFI / Domantas Pipas
EC President Ursula von der Leyen said on Wednesday that the EU is planning a "deep and comprehensive" reform of the electricity market in order to overcome the energy crisis caused by Russia's war in Ukraine, ELTA reports.
Among the expected measures is the limitation of electricity producers' profits, which will allow collecting 140 billion. euros and "soften" high prices for consumers. Other measures include energy rationing, temporary state aid and decoupling of gas and electricity prices. This time there was no talk about limiting gas prices.
The idea of ​​taxing electricity producers' non-gas profits is intended to direct money to households and businesses to help them cope. The Ministry of Energy of Lithuania claims that the aforementioned proposal is not suitable for the country.
In Europe, there is also talk about the redistribution of unplanned profits of companies in the fossil fuel (gas, coal) sector, as well as limiting the prices of gas from Russia (or imported gas in general), about the price "ceiling" of gas used for electricity generation, and more.
It is strictly forbidden to use the information published by DELFI on other websites, media or elsewhere or to distribute our material in any form without consent, and if consent is obtained, it is necessary to credit DELFI as the source.
I have tried to give all kinds of news to all of you latest news today 2022 through this website and you are going to like all this news very much because all the news we always give in this news is always there. It is on trending topic and whatever the latest news was
it was always our effort to reach you that you keep getting the Electricity News, Degree News, Donate News, Bitcoin News, Trading News, Real Estate News, Gaming News, Trending News, Digital Marketing, Telecom News, Beauty News, Banking News, Travel News, Health News, Cryptocurrency News, Claim News latest news and you always keep getting the information of news through us for free and also tell you people. Give that whatever information related to other types of news will be
All this news that I have made and shared for you people, you will like it very much and in it we keep bringing topics for you people like every time so that you keep getting news information like trending topics and you It is our goal to be able to get
all kinds of news without going through us so that we can reach you the latest and best news for free so that you can move ahead further by getting the information of that news together with you. Later on, we will continue
to give information about more today world news update types of latest news through posts on our website so that you always keep moving forward in that news and whatever kind of information will be there, it will definitely be conveyed to you people.
All this news that I have brought up to you or will be the most different and best news that you people are not going to get anywhere, along with the information Trending News, Breaking News, Health News, Science News, Sports News, Entertainment News, Technology News, Business News, World News of this made available to all of you so that you are always connected with the news, stay ahead in the matter and keep getting today news all types of news for free till today so that you can get the news by getting it. Always take two steps forward