Hot Stories
Van der Poel opts for 'fairground races' and late flight, but believes in a good World Cup | NOW & More Latest News Here
While most participants in the World Cycling Championships have long been in Australia, Mathieu van der Poel was in Hooglede in Flanders on Thursday at the presentation of his cyclocross team. The Dutch leader opts for a different preparation, but believes in a good result in next Sunday's road race.
Remco Evenepoel shone in the Vuelta a España. Wout van Aert showed his World Cup form in two WorldTour races in Canada, just like Michael Matthews and Tadej Pogacar. At the same time, Van der Poel started successively in the Druivenkoers Overijse, the Stadsprijs Geraardsbergen, Izegem Koers and the GP de Wallonie.
The leader of Alpecin-Deceuninck therefore does not seem to have the ideal run-up to the world championships in Wollongong, Australia. But Van der Poel radiated confidence at Deceuninck's head office on Thursday in his preparation and his form. "Things have been going really well in recent weeks."
The number eight of last year's World Cup showed in the GP de Wallonie on Wednesday that he is back after a difficult Tour de France. Van der Poel won at the Citadel of Namur by beating Biniam Girmay in a nice sprint. Earlier he was also the best in the 'fairground races' in Geraardsbergen and Izegem.
"Sometimes things are ridiculous about those kinds of competitions, but you don't just win a fair race for professionals," says 'VDP'. "Of course next week in Australia the level of competition will be a lot higher. But I don't think training at home and competing in a few smaller races is necessarily a bad preparation for the World Cup. There wasn't really another option either. I was not in shape in time for the Vuelta and my team did not race in Canada."
Mathieu van der Poel won the Grand Prix de Wallonie on Wednesday.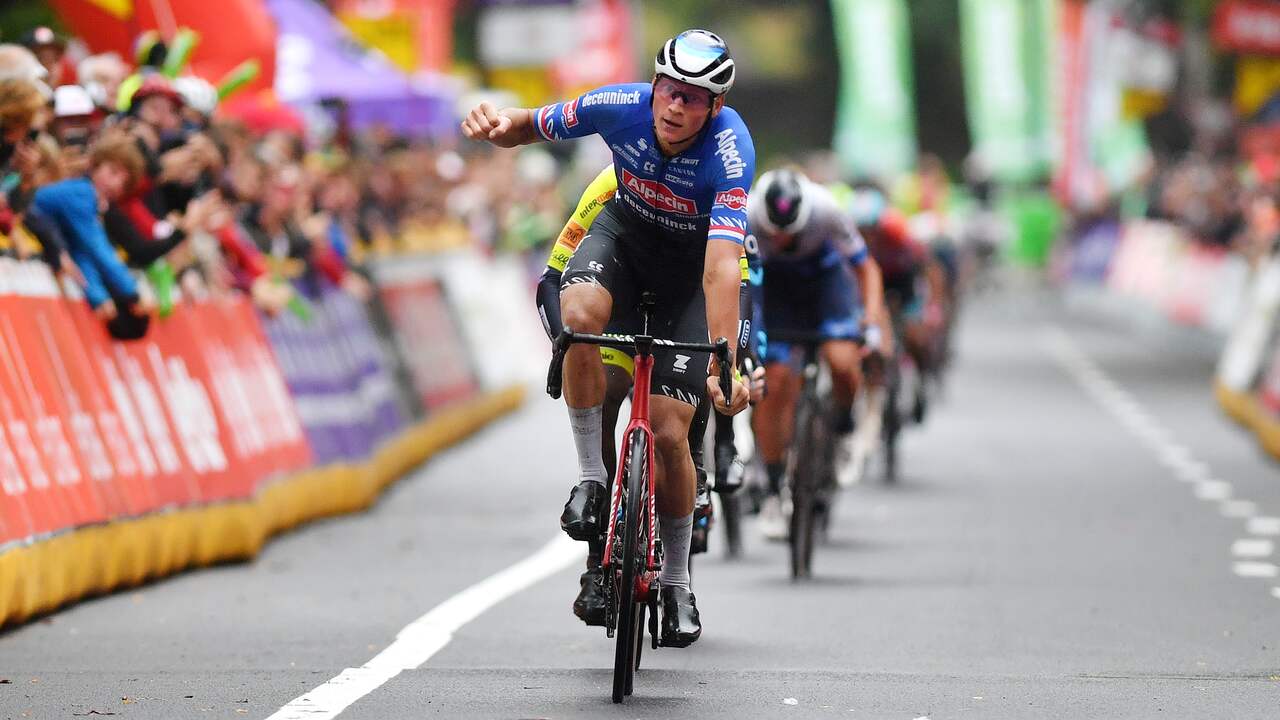 Van der Poel will ride another race in Belgium on Saturday
Van der Poel will start the Primus Classic in Brakel in East Flanders on Saturday, before he starts the more than 24 hours long journey to Australia that same evening. In Wollongong, where it is eight hours later, he is already driving the mixed team time trial on Wednesday.
"Annemiek van Vleuten talked that into my head at the Draai van de Kaai (a criterion in Roosendaal that was held last month, ed.)", says Van der Poel with a laugh. "I then indicated to national coach Koos Moerenhout that I would like to drive. We have a chance of gold and it didn't seem bad to me to make an effort for the road race."
The road race of 266.9 kilometers is next Sunday, less than a week after Van der Poel arrived in Australia. "Van Aert, Pogacar, Evenepoel and Matthews are the favourites," says the Dutchman. "It's hard to say what my chances will be, because I haven't raced against those toppers for a while. But I feel good, otherwise I wouldn't have gone to Australia."
Van der Poel opts for 'fairground races' and late flight, but believes in a good World Cup | NOW
& Latest News Update
I have tried to give all kinds of news to all of you latest news today 2022 through this website and you are going to like all this news very much because all the news we always give in this news is always there. It is on trending topic and whatever the latest news was
it was always our effort to reach you that you keep getting the Electricity News, Degree News, Donate News, Bitcoin News, Trading News, Real Estate News, Gaming News, Trending News, Digital Marketing, Telecom News, Beauty News, Banking News, Travel News, Health News, Cryptocurrency News, Claim News latest news and you always keep getting the information of news through us for free and also tell you people. Give that whatever information related to other types of news will be
Van der Poel opts for 'fairground races' and late flight, but believes in a good World Cup | NOW
& More Live News
All this news that I have made and shared for you people, you will like it very much and in it we keep bringing topics for you people like every time so that you keep getting news information like trending topics and you It is our goal to be able to get
all kinds of news without going through us so that we can reach you the latest and best news for free so that you can move ahead further by getting the information of that news together with you. Later on, we will continue
to give information about more today world news update types of latest news through posts on our website so that you always keep moving forward in that news and whatever kind of information will be there, it will definitely be conveyed to you people.
Van der Poel opts for 'fairground races' and late flight, but believes in a good World Cup | NOW
& More News Today
All this news that I have brought up to you or will be the most different and best news that you people are not going to get anywhere, along with the information Trending News, Breaking News, Health News, Science News, Sports News, Entertainment News, Technology News, Business News, World News of this made available to all of you so that you are always connected with the news, stay ahead in the matter and keep getting today news all types of news for free till today so that you can get the news by getting it. Always take two steps forward
The Article Is In Dutch🡽