Microsoft Defender has become an increasingly integral part of Windows over the years. It used to be Windows Defender, and for a long time, it was mostly known as a firewall, but Microsoft has been adding capabilities for more than 10 years, and it now offers very strong basic protection. However, sometimes you want to disable Microsoft Defender antivirus for one reason or another, and Windows 11 doesn't make that easy.
It should be noted that the Windows Security application provides several layers of protection, and disabling each of them will not only be time-consuming, but also very risky. This includes features like tamper protection, exploit protection, core isolation, and data encryption. We focus on some of the key features that may interfere with using your computer in this guide.
Temporarily disable real-time protection
As mentioned above, Microsoft does not make it easy to disable Microsoft Defender malware protection. You can disable real-time protection if you need to pause your antivirus. It will automatically re-enable after some time, but temporarily disabling it may be all you need. Heres how to do it:
Open the Windows Security app.
click Protection from viruses and threats in the main menu or the left pane.
Under Virus and threat protection settingsclick Settings management.
toggle switch under Real time protection to turning off.
If Microsoft Defender blocked you from running a program before, you should be able to do so now. Setup will restart itself after a while.
Unfortunately (or not), there is no way to permanently disable antivirus protection, but if you specifically want to disable Microsoft Protection, you can solve it using another method.
Install another antivirus
If you want to permanently disable Microsoft Defender's built-in antivirus, your best bet is to install another antivirus that can take over Microsoft Defender's duties. To do this, you just need to download and install any other antivirus that you trust. There are a lot of options available, including malware If you want a free option. There are also many paid options, such as BitdefenderAnd webprotand more.
Simply download and install the antivirus of your choice, and Microsoft Defender antimalware protection will be disabled. Microsoft's malware detection may work differently than third-party ones, so you may prefer it that way. Keep in mind that even if you have an antivirus installed and you have disabled protection inside this program, Microsoft Defender will be online. It's not like you're not allowed to be protected.
Additionally, even if you're using third-party anti-malware software, you can still have Microsoft Defender run periodic malware scans to get more coverage against threats.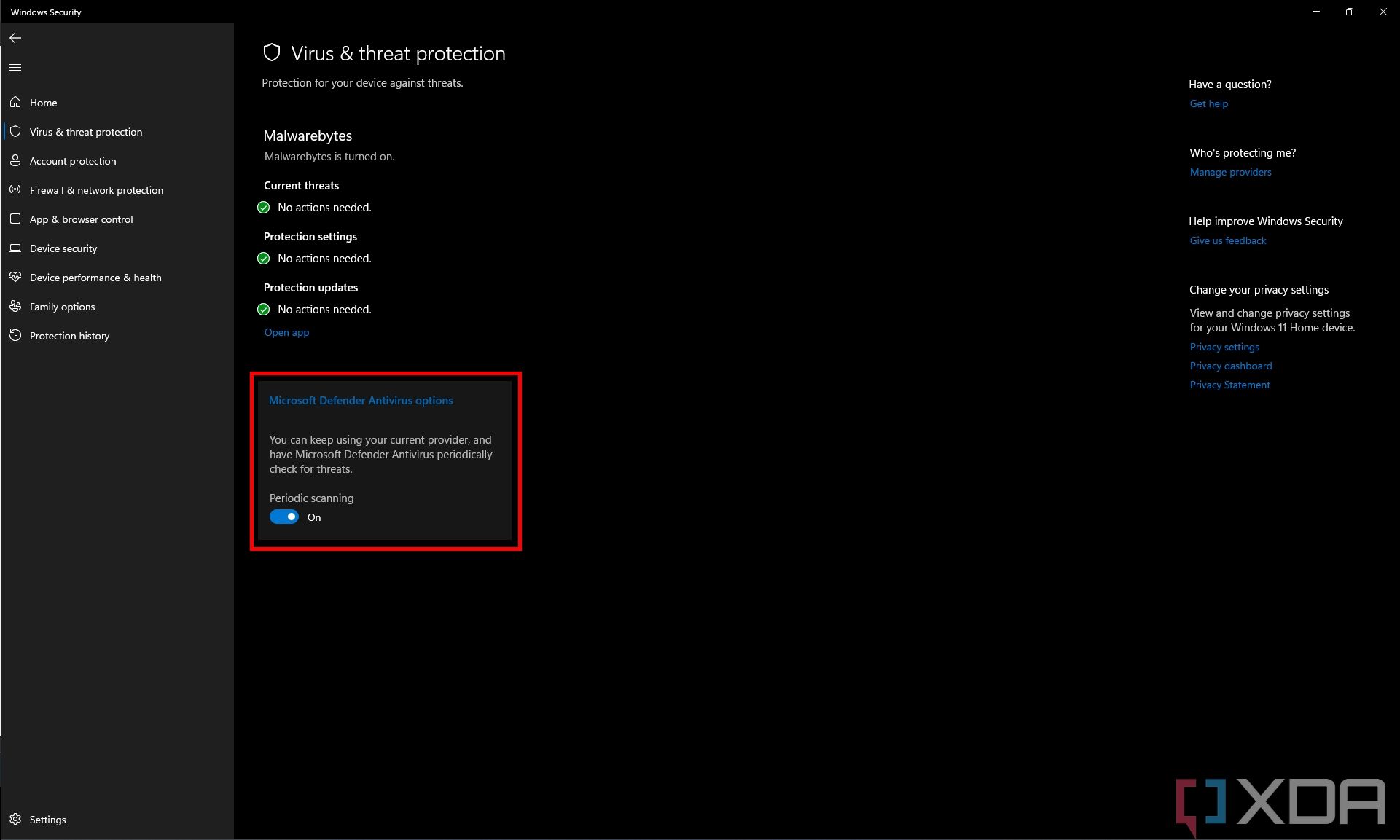 Disable the firewall in Microsoft Defender
Another thing you may want to disable in Microsoft Defender is firewall protection. This monitors your network for potentially dangerous requests and blocks any threats it detects. This is a separate setting from antimalware protection, and is not actually disabled when another antimalware program is installed. Here's how to disable it:
Open the Windows Security app.
click Firewall and network protection in the main menu or left pane.
You can choose the firewall settings for domain networks, private networks, and public networks separately. Click the appropriate option, although we do not recommend disabling the firewall for public networks.
Set the toggle under Microsoft Defender Firewall to turning off.

Repeat this with other network types if necessary.
---
And that's all you need to know if you want to disable basic protection features in Microsoft Defender. As mentioned, other layers of protection can be disabled in the Windows Security app, but these are usually too important to turn off. We've covered how to use Smart App Control in the past, in case you'd like to learn more about this particular feature, which is a recent addition to Windows 11 version 22H2.