Almost all smartphones — including budget options — feature glass and metal builds for more durability, but there's still risk of damage. Even the ones with the latest and greatest Gorilla Glass Victus protection aren't entirely immune to scratches and cracks, so we always recommend picking a good quality case to protect your phone. But protecting your device from scratches and cracks is no longer the only function cases serve these days. You can now choose from various options that can change how your phone looks and feels. They can even add more functionality, like doubling up as a wallet or a stand.
You may find it a little overwhelming to pick the right case due to the sheer number of options that are available. Let's break down what you need to know to purchase a phone case.
Factors to consider
Before we jump into the different types of cases available on the market right now, it's important to know about some key factors. Not every case is made for maximum protection, and you might not even need something rugged. Do you want a stylish case or more functionality? Here's what you need to consider first.
Type of protection
The most important thing to consider before you start combing the market for different phone cases is the type of protection you want for your device. Not all phone cases are made equal; some cases are more durable and offer better protection than others. If you're buying a case to add the best protection, then you might want to consider a heavy-duty or a rugged case. But if you'd rather have something thinner that doesn't add much bulk to your phone and is easy to hold, you might want to consider a thin case.
Buying a thin case for your phone doesn't mean you have to miss out on everything. You can buy some great thin cases that come with extra grip on the sides or raised lip around the display or the camera lenses. They may not be as protective as a rugged case, but you'll still get a decent amount of protection. You can even just get a phone skin that'll change up the look of your phone but won't add almost any protection.
Style
If you prioritize the style of your phone case over the type of protection or its functionality, then you've got a completely different set of cases to explore. There are plenty of brands out there that specialize in what we call "stylish" cases that come in different colors or have patterns on the back. You don't like rocking a case with solid colors or patterns? Then how about a clear case that lets you show off the color and the design of your phone? A lot of modern smartphones like the Pixel 7 and the iPhone 14 come in pretty colors that look stunning on their own. Some clear cases are also partially transparent, with a slight gradient, color tint, or even some glitter to elevate the overall look of the phone while retaining its true colors.
These cases are usually made out of silicone or hardshell plastic. You'll often find these types of cases at bargain prices, so you can pick up a couple of them to mix and match. Alternatively, you can also branch out to explore other materials like leather, although those come at a premium. Some manufacturers like Samsung and Apple have their own leather cases for popular flagship phones, so you don't have to go on a hunt to find a good quality leather case either.
Functional cases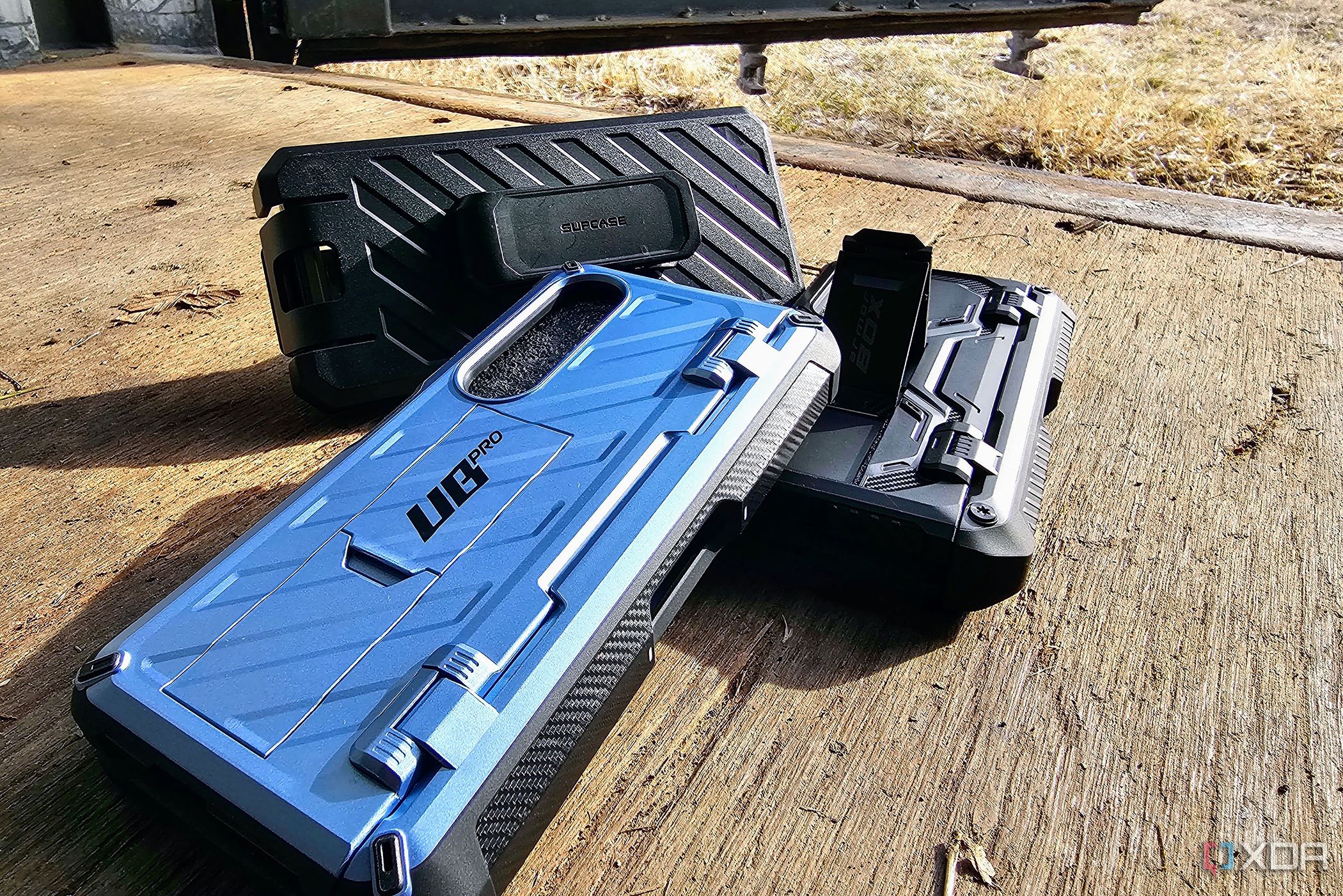 Many cases specialize in a particular function or boast additional features such as built-in kickstands or slots for storing credit cards and cash. These do a lot more than simply protect your phone from damage. For example, many of the rugged cases we mentioned earlier often accommodate thoughtful extras like a kickstand or a built-in belt clip, but you can buy dedicated ones if you don't want the added bulk that comes with a rugged case.
You can also buy battery cases, which come with a battery pack attached to the back to ensure you don't run out of charge easily. Similarly, you can also pick up folio and wallet cases that let can replace your wallet. Some of these wallet cases are relatively thin with only a single card slot, but you can also check out ones with multiple slots if you don't mind carrying a bulkier case. Heck, you can even buy an armband phone case that can attach to your arm during your workouts.
Price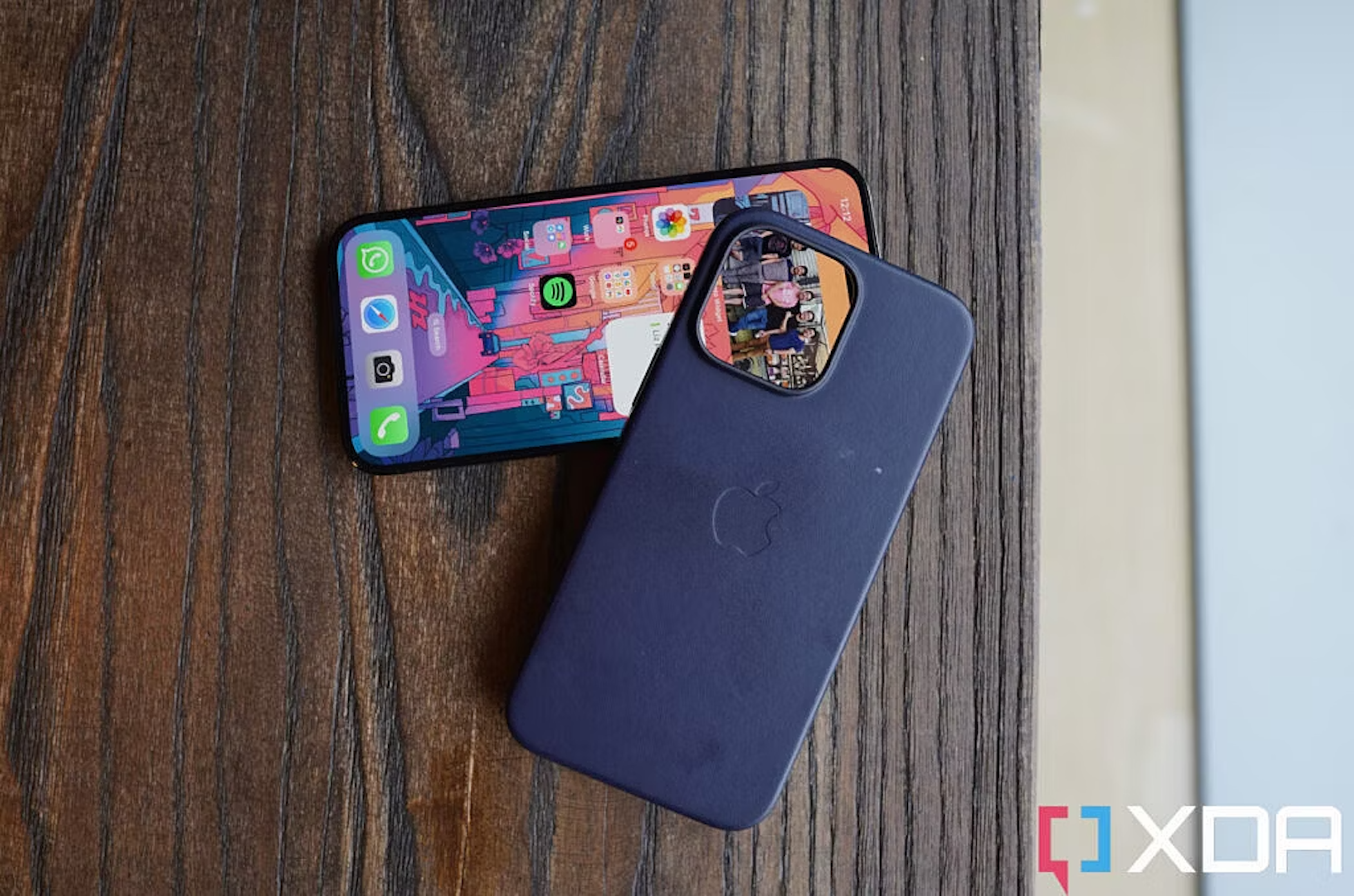 The prices can vary quite a bit depending on the type of case you buy. It depends on whether you're buying a simple silicone case with no extras or going all in with a rugged case with all the bells and whistles. All factors mentioned in the sections above affect the overall pricing, so you'll find yourself paying more money for, say, a premium leather or a rugged case over a simple hardshell plastic case. Thankfully, there's a good mix of options from various brands, We recommend checking out brands like Otterbox, LifeProof, Casetify, Nomad, and more if you don't mind opening your wallets for a premium case. Those who are shopping on a budget also have a ton of solid options from brands like Spigen, ESR, Ringke, and others.
First-party cases like we mentioned above often tend to be more expensive than aftermarket options. Apple's iPhone 14 Pro Max leather case, for instance, will cost you $60, whereas a premium leather case from Bellroy for the same phone starts at $45 on Amazon. It also goes without saying that you don't always have to chase the most expensive option to get the best product. You can always find a good case that fits your budget too. It's all about finding the right balance to get the best bang for your buck.
Different types of phone cases
Now that we know the different factors to consider, it's time to pay more attention to the different types of cases available. There's no shortage of phone cases out there, and the whole process can become more complicated if you don't know what you're looking for. We've highlighted some categories below to break down some popular types of cases.
Heavy-duty cases
Heavy-duty, or rugged, cases will offer the best protection for your device. They tend to be a bit bulkier than other cases, but you can find decently thin options these days too. One of the best things about heavy-duty cases is that they often come with extras like a built-in screen protector, kickstand, and more. We recommend picking up a rugged case if you have an active lifestyle or if you're a bit clumsy when it comes to handling your tech products.
Spigen Tough Armor Case

Editor's Choice

Spigen's Tough Armor is popular among those who like to buy rugged cases for their devices. This particular case is available for a lot of phones, and it offers solid protection. It also comes in many colors and has a kickstand on the back.

SUPCASE Unicorn Beetle Pro Case

Promoted Pick

In partnership with Supcase

The SUPCASE Unicorn Beetle Pro is available for a variety of phones as well. It's made out of multi-layered TPU and polycarbonate materials to offer the best protection. Notably, the UB Pro cases come with a built-in kickstand and a belt-clip holster too.

UAG Monarch Pro Kevlar

Premium Pick

Urban Armor Gear also has some solid rugged cases for those who want the best protection. They're often made out of premium and durable build materials and are available in different colors too.
Thin cases
Thin cases are becoming extremely popular because they don't add too much bulk to devices. These cases, as we mentioned earlier, don't offer the best protection, but they work to maintain the feel of modern thin phones.
Spigen Thin Fit Case

Editor's Choice

Spigen Thin Fit cases are perfect for those who don't want to add a ton of bulk to their devices in the name of protection. They are some of the thinnest cases you'll find on the market, have precise cutouts, and are also available in a bunch of different colors.

Ringke Onyx

Best Value

Ringke's Onyx case is a popular thin case. It comes with precise cutouts and a textured back that makes it feel good in the hand while using the phone. It's also available in a few different colors.

TORRAS Slim fit

Comes with raised lips

TORRAS has a solid collection of slim cases for a variety of phones. These lightweight cases are easy to install and have precise cutouts too. They also have raised edges around the display and the camera lenses for added protection.
Clear cases
Clear cases, as the name suggests, are transparent and let you show off the color of your phone. These cases are quite easy to find, too, from many manufacturers. A lot of these clear cases tend to turn yellow over time, though, so you should only buy the ones from reliable and popular names. Here are the best ones we recommend.
Spigen Ultra Hybrid

Editor's Choice

Spigen's Ultra Hybrid case is a popular pick that's readily available for a variety of phones. The clear version comes with a transparent back and a TPU bumper to protect your device. It also has raised bezels to protect the screen and camera when placed on flat surfaces.

Caseology Skyfall Case

Best Value

Caseology's Skyfall cases are available for a bunch of different phones, and they bring a unique look to the table with a transparent back and an opaque bumper. They offer military-grade protection to your phone while letting you show off its color.

ESR clear cases

Comes with a kickstand

ESR also has a solid collection of clear cases that we've recommended in the past. They're available for a variety of phones, and you can buy both simple clear cases or the ones with a kickstand at the back from ESR.
Stylish cases
All smartphone cases except clear ones change the way your phone looks from the outside. Not all cases are made to look pretty, though, so you might want to consider picking up something stylish that'll add to the overall appeal of your phone. Some stylish cases only add a different color or a pattern to the back of your phone, while others can also change the way they feel in your hand.
Bellroy leather case

Editor's Choice

Bellroy is a popular name when it comes to stylish high-quality leather cases. These are available for a bunch of phones, come in a variety of colors, and don't add too much bulk. They also come with a microfiber lining on the inside to protect your phone.

Casetify Impact Case

Clear case with artwork

Casetify's Impact cases are perfect for those who want to keep their phones looking fresh with new designs. You can get them for a variety of phones, and they come with a bunch of different designs. They also offer military-grade protection to your devices.

dbrand Grip Case

Premium Pick

Dbrand's Grip case can be customized with different skins, so it's the best option to consider if you want to keep changing the look of your phone. There's a great collection of skins to choose from, and they're also very easy to apply. The Grip case itself is quite durable, so you'll get good protection.
Thin and rugged are two of the most popular categories when it comes to cases, as most users either stick with a thin case that doesn't add too much bulk or go all in to add the most amount of protection. In addition to the ones mentioned above, you'll come across many other categories, including battery cases, magnetic cases, and more, based on the device you have. iPhones, for instance, have a ton of options on the market, including MagSafe cases that support additional accessories from Apple's MagSafe ecosystem. You can also find battery cases on the market for many phones, although these are often quite bulky and are slowly being replaced by power banks.
If you know the type of protection you want for your device along with its style and functionality then it becomes significantly easier to find something within your budget. We hope you found this guide useful, and that it helps you find the perfect case for your new smartphone.
If you're looking for a case for your specific phone, we have a ton of lists for you, including the best Galaxy S23 cases, best iPhone 14 cases, and the best Google Pixel 7 cases.