Entertainment
"They make altar call for women looking for husbands and fruit of the womb" – Nigerian doctor blames churches for putting women under pressure
A Nigerian doctor, identified as Ada Ujaligwa, has accused churches of placing women under pressure to marry and bear children.
Ada, in a post shared via her Facebook page, pointed out that pastors make altar call in church for women seeking husbands and the fruit of the womb.
She said this puts only women under pressure to marry and have children as there is no pressure on males to take responsibility.
The post reads,
"They make altar call for women looking for husband, women looking for fruit of the womb, whilst men go sidon dey look. They are intentionally putting only women under pressure for these things!
They want only women to be desperate!"
See below,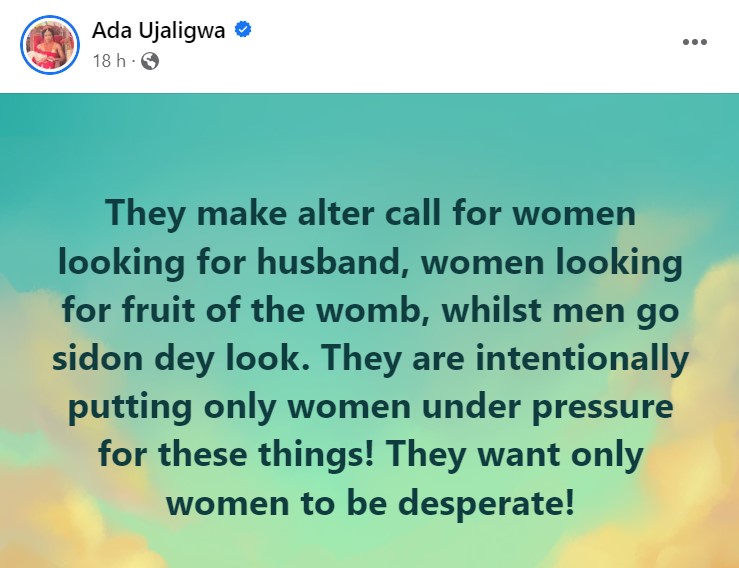 This has sparked mixed reactions on social media, with many agreeing with her stance.
Adaeze Eze wrote, "True. They should also be calling impotent men to come out for special prayers. I'm sure no man will come out."
Ijeh NwaOma wrote, "Women are the ones making themselves desperate. No one forces them to come out. The people doing that altar call should also include men in it as they too want marriage and children."
Maryann Oforchukwu wrote, "The best post of the year. Religion has finished some people and some of those pastors hmmm"
Nma Aguwa wrote, "That was how my friend 's exhusband refused to get tested for 3yrs of their marriage.
His mum always telling her how she has a*bor*ted all her children and won't let this babe breath!!
She summoned courage and left the useless marriage.
After some years she remarried and took in the first month of marriage.
It takes two to get pregnant,these people should know this."