Entertainment
Video of hotelier, Adeoyin in court after he was sentenced to dəath by han.ging for mur.dər of OAU student
A video has surfaced online showing hotelier Ramon Adedoyin in the Osun State High Court after he was sentenced to death by hanging for the murder of OAU student Timothy Adegoke.
On Tuesday, May 30, Dr. Ramon Adedoyin, owner of Hilton Hotel in Ile Ife, along with two others, was sentenced to death by hanging for the murder of Timothy, which occurred in the hotel in November 2021.
Timothy Adegoke, a former postgraduate student of Obafemi Awolowo University (OAU), Ile-Ife, was murdered inside a room at Hilton Hotels Ile-Ife, owned by Dr. Ramon Adedoyin, in November 2021. Adedoyin and six of his workers were arrested and arraigned in connection to the murder.
The court, presided over by Chief Judge of Osun State, Justice Oyebola Adepele Ojo, found Adedoyin and three of his staff guilty of murder and conspiracy.
During the judgement, Justice Ojo stated that the circumstantial evidence available to the court pointed to the unlawful killing of Adegoke, who was a guest at Adedoyin's hotel.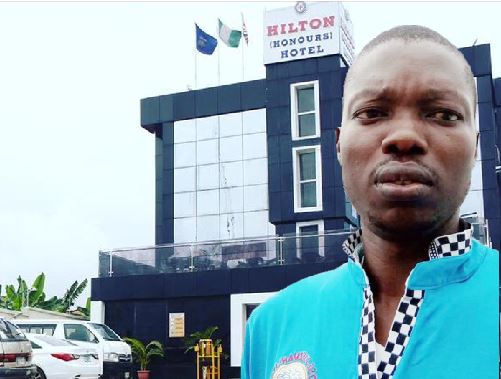 Justice Ojo mentioned that Adedoyin's decision not to testify in court did not work in his favor, as the circumstantial evidence had shifted the burden of proof onto him.
She further noted that Adedoyin's refusal to testify implied his agreement with the murder charge pressed against him by the prosecution, dismissing the alibi provided by his counsel, who claimed that the hotel owner was in Abuja for an extended period around the time of Adegoke's death.
Justice Ojo, however, discharged and acquitted three of the staff members, Magdalene Chiefuna, Lawrence Oluwole, and Adedeji Adesola. The sentencing of the seventh defendant is scheduled for Wednesday, following pleas from both the prosecution and defense counsels.
According to The Cable, the judge ordered the forfeiture of the hotel and the Hilux bus used to transport the deceased to the dumping ground. Justice Ojo also directed Adedoyin to pay the school fees of Adegoke's two children.
Timothy Adegoke had stayed at Hilton Hotels and Resorts in Ile-Ife upon his arrival from Abuja on November 5, 2021, in order to be on time for his examination at OAU Distance Learning Centre in Moro, Osun State, on November 6 and 7, 2021.
However, he was declared missing by the police on November 7, 2021 when friends and family members couldn't reach him.
Later, following a police investigation into the hotel owner, Dr. Rahman Adedoyin, and his workers, Timothy's body was discovered buried in a grave.
Watch video below,