Trending Today
Married Life of Elizabeth Olsen With Robbie Arnett; Her Other Relationships and Net Worth 2023 | Sisters & Movies
Elizabeth Olsen, an American actress became popular after playing in the thriller movie, Martha Marcy May Marlene in 2011. This movie made her win a nomination for the Critics' Choice Movie Award.
Her role in movies like Godzilla, Wind River, and Ingrid Goes West made her receive recognition globally. She appeared in the drama, Sorry for Your Loss as an executive producer and actress.
Early Life of Elizabeth Olsen
Elizabeth Olsen was born Elizabeth Chase Olsen on February 16, 1989, in Sherman Oaks, Los Angeles, California, USA. As of now, Olsen is 34 years old and cut her birthday cake on the 16th of February. Her birth sign is Aquarius. She was born to David Olsen (father) and Jarnette Olsen (mother). 
Her father is a real estate agent and her mother is a former dancer. In 1996, her parents got divorced.  Her biological siblings are Mary-Kate Olsen, Ashley Olsen, and Trent Olsen. Courtney Taylor Olsen and Jake Olsen are her half-siblings. Mary and Ashley are popular as twin fashion designers. Elizabeth's maternal grandparents are Daniel David Jones and Mary Rose Fuller.
Olsen holds American citizenship and is of mixed (Norwegian, English, German, one-eighth Italian, distant French) ethnicity. She is an atheist.
Education of Elizabeth Olsen
She graduated from Campbell Hall School in Studio City, California. Then, she studied at New York University (NYU)'s Tisch School of the Arts. Elizabeth also joined the Atlantic Theater Company and the Moscow Art Theatre School in Russia and graduated in March 2013.
Elizabeth Olsen Secretly Married to Robbie
She is married to Robbie Arnett, the musician. They met each other for the very first time with the help of mutual friends and both of them were vacationing in Mexico. She and Arnett started dating each other in February 2017.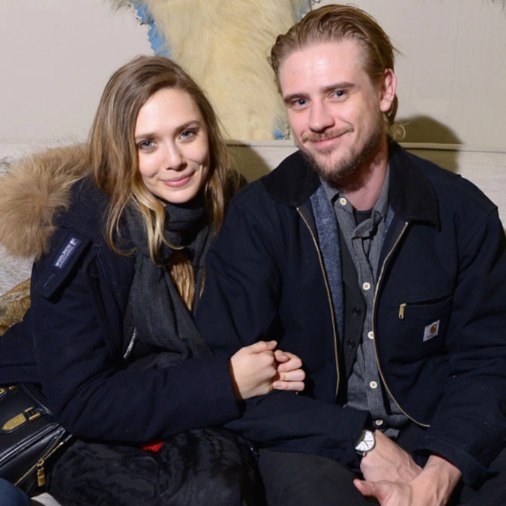 They got engaged in July 2019 and married secretly by eloping before the covid pandemic and later they remarried on 8th June 2021. She announced her marriage to him on June 2022.
Past Relationships of Elizabeth Olsen
She was engaged to Boyd Holbrook. In 2012, they met each other for the very first time on the set of Very Good Girls. then, they started dating in September 2012. they got engaged in March of 2014 and after a year Olsen called off her engagement via phone call. On that day, Boyd's best friend David Armstrong died due to liver cancer.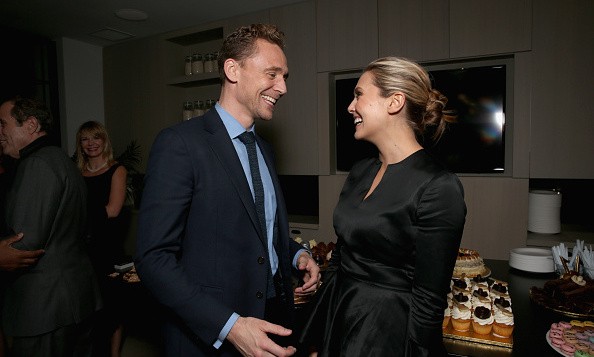 She was rumored with actors like Chris Evans and Tom Hiddleston in 2015. She was also liked by Alexander Skarsgård in 2012.
Elizabeth Olsen's Net Worth
As of 2023, Olsen has a net worth of $11 million which she earned from her professional career. $2 million per year is her salary. She has two luxurious cars like Mercedes-Benz S-Class and Toyota Prius.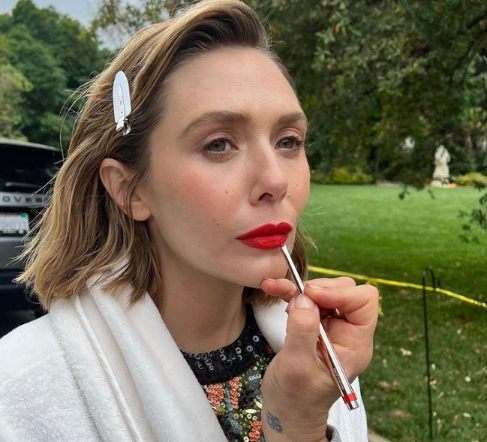 Elizabeth Olsen Responds to Plastic Surgery Rumors
In an interview with James Cordon on the Late night show, she revealed that she hasn't done any nose jobs. When James asked if she had plastic surgery she said:
"When I first started working, my best friend pointed this out to me – if you Google my name, the first search that will come up is 'nose job. And well, I've never had a nose job. I've had this same nose my whole life."
She also added:
"And I used to be made fun of for having a Michael Jackson nose growing up, But he had a lot of surgeries to get there."
Elizabeth No Longer Friends With Chris Evan
She stopped hanging out with Chris Evans because she want to be more professional and is influenced by LA's professional life. So, she stopped hanging out with him even though they lived closer and said:
"We were [close friends], We lived very close to each other, and during that time we'd hang out a lot. I still like him but I don't, like, hang out with him anymore. It's not that I don't like hanging out with him anymore, I was doing it in the more LA way. I don't, like, still hang out with him. I was doing it more as a Valley kid."
Acting Career of Elizabeth Olsen
She was only 4 when she started working with Mary-Kate and Ashley's productions.
Olsen's debut film with the lead role is Martha Marcy, May Marlene which was released in 2011.
She landed the role of Sarah in the horror movie, Silent House.
Elizabeth also played in Josh Radnor's movie, Liberal Arts.
She appeared in Rodrigo Cortés's directed movie, Red Lights in 2012.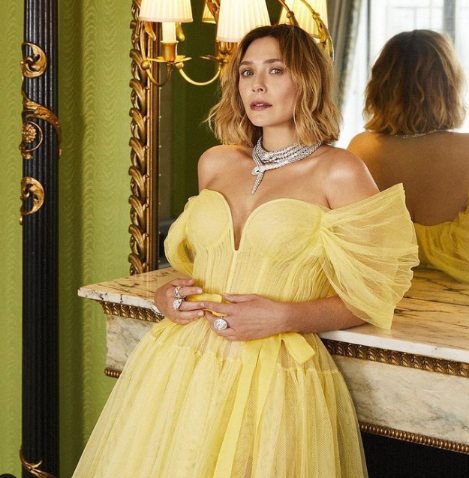 Then, she shared the big screen with  Bryan Cranston and Aaron Taylor-Johnson in the movie, Godzilla.
She played the role of Scarlet Witch in the movies, Avengers: Age of Ultron and The Avengers in 2015.
She appeared as Audrey Williams in the drama, I Saw the Light in 2015.
Elizabeth landed the role of Scarlet Witch in Captain America: Civil War.
Movies & TV Shows
She is in movies like Silent House, Peace, Love & Misunderstanding, Liberal Arts, Kill Your Darlings, In Secret, Very Good Girls, Avengers: Infinity War, and Doctor Strange in the Multiverse of Madness. She appeared in hit tv shows like How the West Was Fun, Sorry for Your Loss, WandaVision, Marvel Studios: Assembled, Saturday Night Live, Love & Death, What If…?  
Books
She is an author and has wrote Hattie Harmony: Worry Detective and Hattie Harmony: Opening Night.
Awards & Nomination
She won Chicago Film Critics Association in the category of the Most Promising Performer for her role in Martha Marcy May Marlene.
In 2013, she won the nomination for Best Leading Actress at the Fangoria Chainsaw Awards.
She received the People's Choice Award for Doctor Strange.
In 2015, she won Deauville American Film Festival in the nomination of Hollywood Rising Star.
FAQs of Elizabeth Olsen
What is Elizabeth Olsen's height?
Olsen's height is 5 feet 6 inches and weighs 57 kg. Elizabeth's body measurements are 34-25-35 Inches. Olsen has beautiful blonde color hair and green color eyes. Elizabeth wears a shoe size of 8 (US) and her dress size is 4 (US).
Does Elizabeth Olsen have a tattoo?
Yes, Olsen has a tattoo. She carved on her forearm just for a movie with an edgy barbed wire tattoo.
Did Elizabeth Olsen ever change her last name?
No, she didn't change her last name. She always thought of changing her last name after becoming an actress but she didn't change it.
Is Elizabeth Olsen a sister to the Olsen twins?
Yes, she is the biological sister of the Olsen twins. She has half-siblings named Courtney Taylor Olsen and Jake Olsen. Olsen twins are popular as twin fashion designers and they even named their company named after her sister name, Elizabeth and James in 2007.
Why doesn't Elizabeth Olsen have an Instagram?
Olsen has deleted her Instagram account after being cyberbullied. people used to comment on her as she didn't post the death of  Chadwick Boseman in the summer of 2020.
Is Elizabeth Olsen related to Aaron Taylor Johnson?
No, Elizabeth is not related to Aaron Taylor Johnson. Both of them share the same profession of acting but are not related.