Entertainment
Nigerian woman set to break Guinness World Records for home cooking marathon
Nigerian woman, Treasure Eleojo Abraham, has taken to social media to share her application to Guinness World Records as she prepares to start her 68-hour home cooking marathon.
She claimed that she will break two records, including the longest marathon of home cooking and the most selfies taken in three minutes.
She wrote;
"Hey everyone! ????I'm beyond excited to share some incredible news with all of you! ???? I'm embarking on a thrilling journey to break Guinness World Records???????? But I can't do it without your amazing support and encouragement.
I've always been passionate about pushing boundaries, challenging limits, and achieving the extraordinary. And now, I want to make my mark in history by shattering some existing records and setting new ones!
From heart-pounding physical feats to mind-boggling mental challenges, I'll be diving headfirst into the world of record-breaking. ???????? Imagine witnessing jaw-dropping stunts, witnessing incredible perseverance, and being part of something truly unforgettable.
But here's where you come in! ???? I need each and every one of you to join me on this exhilarating journey. Share this post, spread the word, and let the world know that we're going after the impossible! ????????
I'll be documenting my progress, sharing behind-the-scenes glimpses, and inviting you to be a part of this incredible adventure. Your support will mean the world to me and will give me the strength to go that extra mile, push through the challenges, and emerge victorious!
So, whether you're a friend, family member, or someone who simply loves witnessing incredible achievements, please join me in this record-breaking quest. Together, we can make history and inspire others to dream big and reach for the stars! ✨????
African dishes showcase 68 hours of cooking individual Marathons."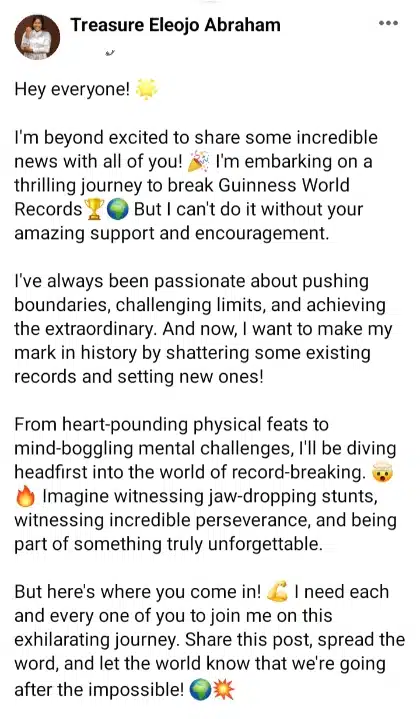 See her application below,