Razer introduced the Kiyo Pro Ultra back at CES touting its largest webcam sensor ever, which immediately intrigued me. Better webcams are definitely needed in this day and age. Laptops have gotten better, but it's not quite there yet, especially with some brands like Dell XPS still using 720p sensors.
The Razer Kiyo Pro Ultra goes above and beyond to deliver excellent image quality, with a huge 1/1.2-inch sensor and wide f/1.7 aperture as well as uncompressed 4K video support. There's nothing quite like it in terms of sharpness, and even low-light scenarios are handled very well.
However, there is one big problem that I encountered with this webcam, and that is that the auto focus can be a bit finicky. It also lacks face tracking zoom, something we've seen in laptop webcams like the one from HP. This reduces the versatility of this webcam, which is an inconvenience for something so expensive.
About this review: XDA purchased the Razer Kiyo Pro Ultra for this review. Razer had no input on its contents.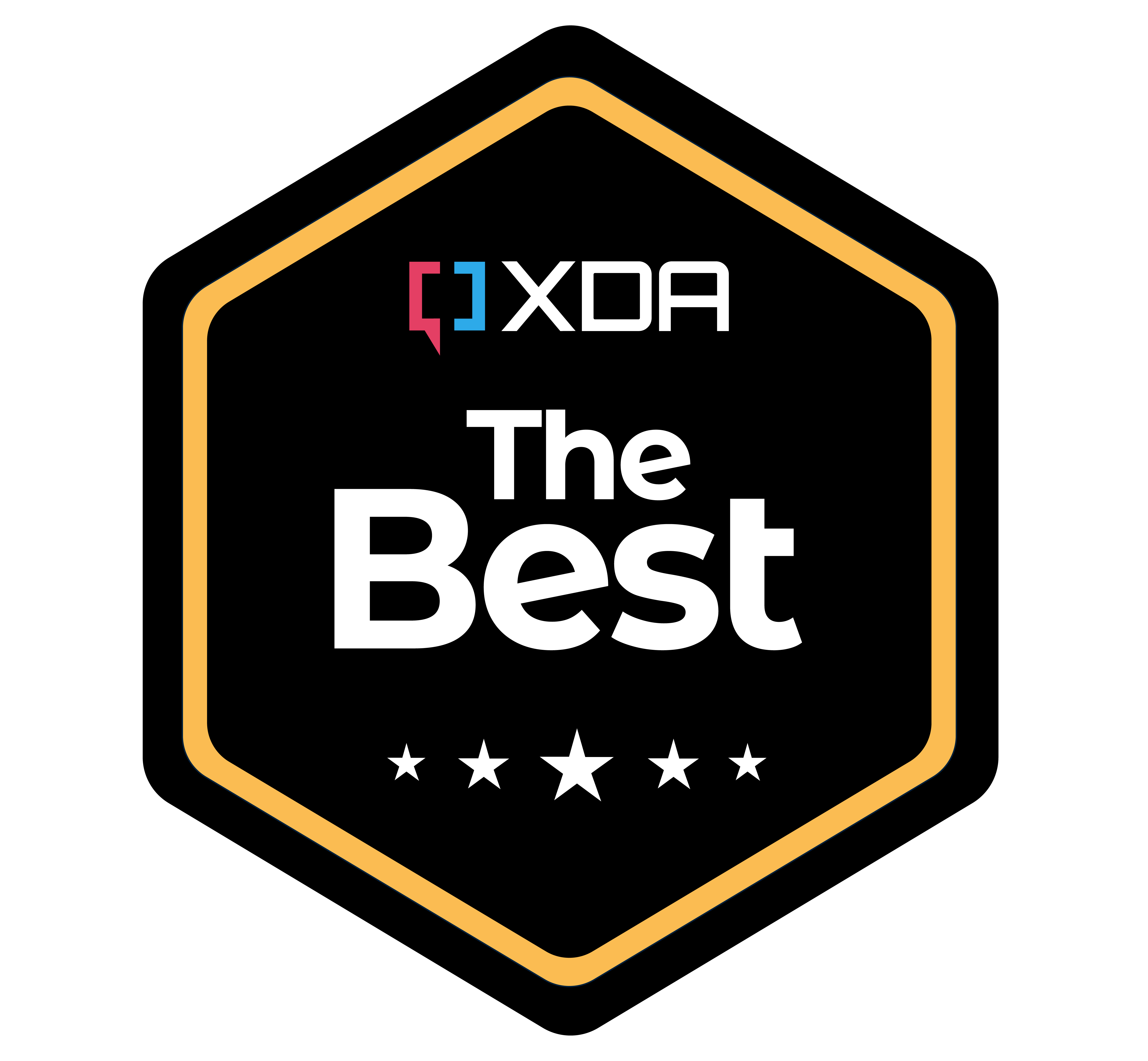 Razer QPro Ultra
The best
The Razer Kiyo Pro Ultra has the largest sensor of any webcam on the market, and produces excellent image and video quality. It even works well in low-light scenarios, though autofocus issues keep it from being perfect.
Brand

scanner

Accuracy

up to 4K (3840 x 2160)

rotation

no one

Wide angle lens

No (field of view 82 degrees)

communication

USB 3.0 (Type C to Type A)

slot

The aperture is f / 1.7

frames per second

Up to 60fps (1080p), 24fps (4K)

mounting

1/4-inch screw mount, monitor stand included

Compatibility

windows
Positives
The best image quality you can get on a webcam
Excellent low light performance
It's easy to tweak settings with Razer Synapse
cons
Auto focus can be a problem
beloved
Razer Kiyo Pro Ultra pricing and availability
As mentioned, the Razer Kiyo Pro Ultra was announced earlier this year at CES, and was launched immediately through the company's website. This is still the only place you can buy it brand new.
The price was set at $300, or €350 for those of us in Europe. This makes it the most expensive webcam I've used, and possibly the most expensive consumer webcam in general. It's closely identical to the Insta360 Link I reviewed last year, but if you go beyond that, you'll be looking mostly at conference room hardware.
This webcam is huge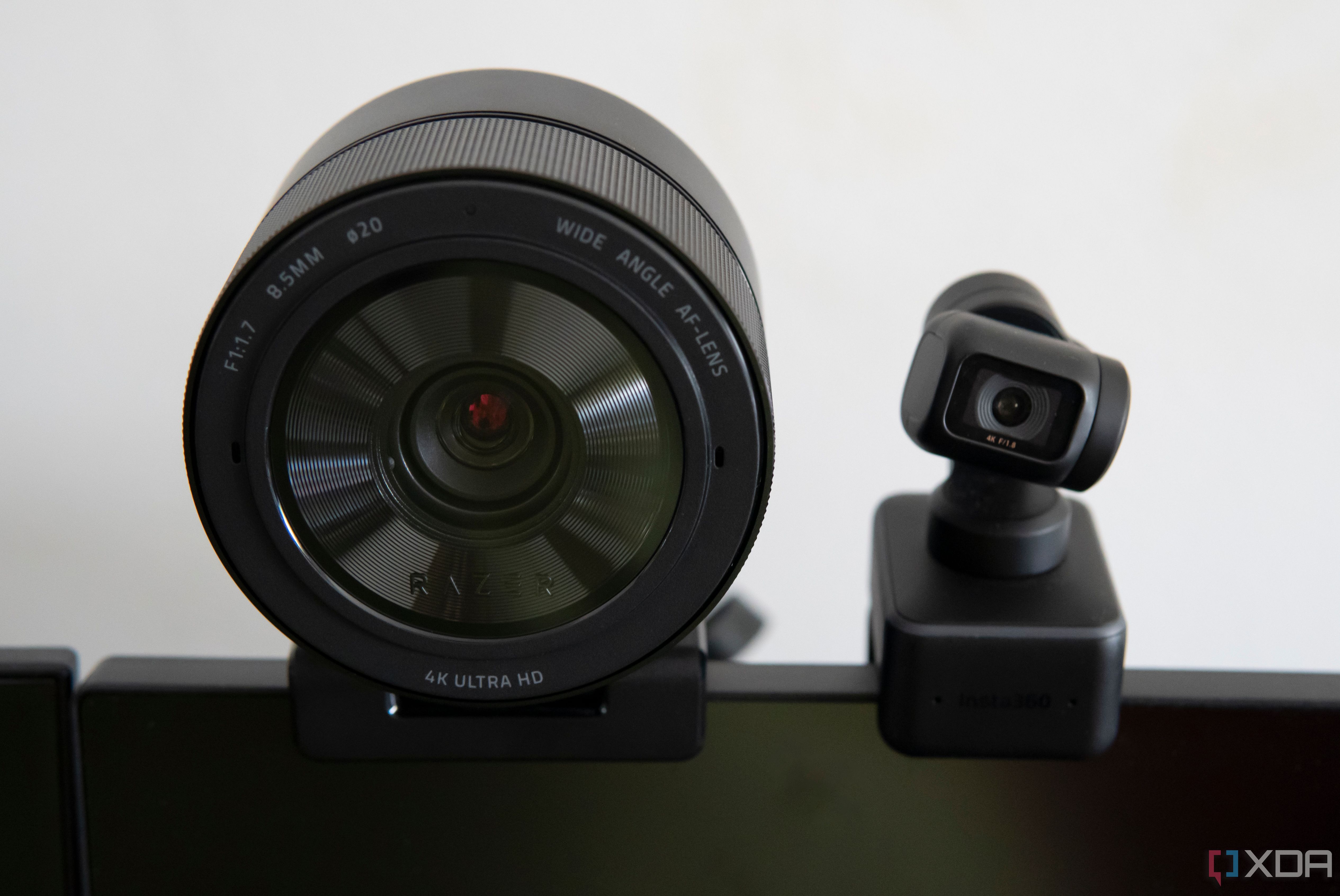 Let's not beat around the bush here: The Razer Kiyo Pro Ultra is kind of bulky for a webcam. I don't have experience with previous Kiyo webcams, but this thing is huge, and makes the Insta360 Link look positively small in comparison. The camera also includes a lens hood, and this hood fits perfectly over the lens of the actual camera I use to take pictures for my reviews.
This is pretty crazy since there is nothing mechanical like a gimbal inside a webcam. All that space just takes up the massive sensor and onboard processor that enables uncompressed 4K video playback. It should require some solid cooling as well, since there are just a few vents around the back. This makes a lot of sense for such a high quality camera, but if you want to mount this on a laptop it has to have a solid hinge, and you'll be a bit limited in how far back the screen can open before it's forced to open up along The Road.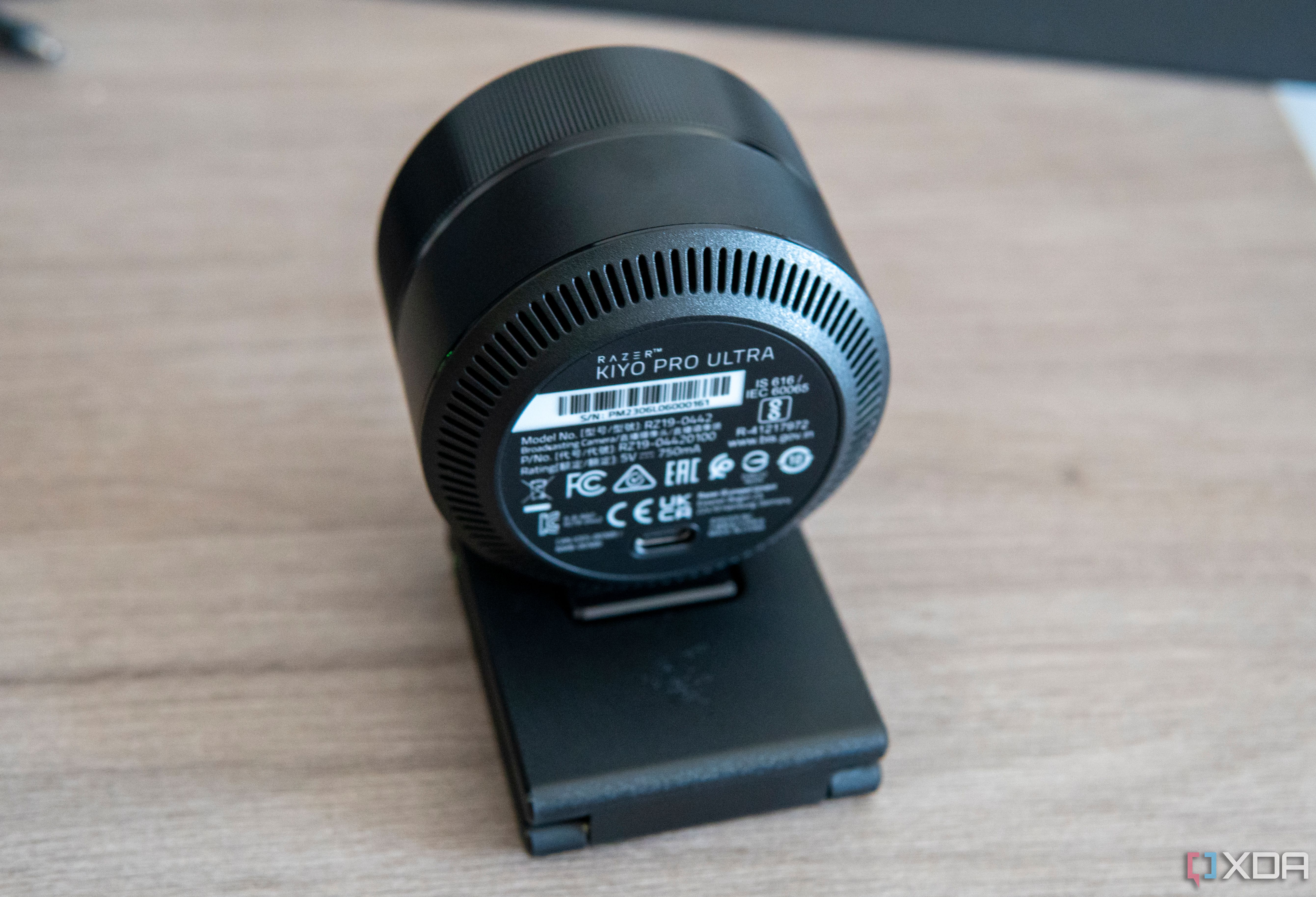 Apart from the size, not much needs to be said about the webcam. It includes a privacy shutter that is easy to open and close by rotating the ring around the front of the webcam. Also included is a monitor mount/clamp using standard quarter-inch screw mounts. The stand itself also has a screw hole, so you can mount the webcam on a tripod or something without removing the stand.
I will say that I also appreciate how consistent Razer is with using sleeved cables for their accessories. It feels more premium.
Image quality is great, with a caveat
In return for this huge size, the Razer Kiyo Pro Ultra gives you excellent image quality, perhaps the best of any webcam. It supports uncompressed 4K video at 24fps, based on 4K 30fps raw capture, thanks to the processor inside the camera itself. My main reference point in terms of quality is the Insta360 Link here which I reviewed last year, which is similarly expensive and arguably the best webcam before it.
Image quality on the Razer Kiyo Pro Ultra is very impressive, easily beating out the Insta360 Link. It has a much larger sensor, so it makes perfect sense. Not only does the Kiyo Pro Ultra look extremely sharp in bright daylight, but it retains these qualities when you switch to indoor lighting and even when you rely solely on the light from your screen. The quality obviously deteriorates in low-light conditions, but it's impressive how well it manages to hold its own.
Razer QPro Ultra (left); Insta360 link (right):
If you can compare it to the Insta360 Link, Razer's camera clearly comes out on top. My face looks sharper and clearer, and the background has a soft blur effect without any AI processing. This feature becomes more noticeable when the lighting conditions get worse, though some colors like the green on my shirt actually look somewhat more realistic with the Insta360 Link.
Razer QPro Ultra (left); Insta360 link (right):
These advantages also hold up in 4K video recordings, where the Kiyo Pro Ultra also does a good job of adapting to low-light scenarios.
The big problem with video on the Razer Kiyo Pro Ultra is the auto focus. It backs it up, and even has a special face-tracking mode enabled by default that seeks to keep your face in focus, even if you're not perfectly centered in the frame. It does work, but it always takes a very long time for you to focus again when you get out of your current level of concentration. This happens a lot during calls when I'm leaning back and forth, or if I'm swaying in my seat a bit, and it can be quite annoying for someone watching you to see the image so often and out of focus.
I think this is something Razer could address with a firmware update, so I hope this improves. As it is, I prefer using the Insta360 Link because it's less fiddly when it comes to auto focus.
The Kiyo Pro Ultra also has built-in microphones, like most webcams, which are fine. Like most people, you probably wouldn't use it if you wanted to look particularly visible, but it gets the job done in a jiffy. You're probably buying this webcam for streaming, and if you are, you probably have a better headset anyway.
Software properties
Like most of Razer's PC products, the Kiyo Pro Ultra comes with a slew of software tweaks that can be made using the Razer Synapse app. Not many people like Razer Synapse, but I find it fairly simple compared to peripheral software from other companies.
There are plenty of controls available for the Razer Kiyo Pro Ultra through Synapse, and they're divided into three tabs: Camera, Processing, and Picture. The Camera tab allows you to change more device-related settings. You can adjust the zoom level and tilt of the camera view, so that it shows a specific part of the frame, adjust focus settings, and change the exposure, including whether exposure should meter to the average light of the frame, the center of the frame or your face.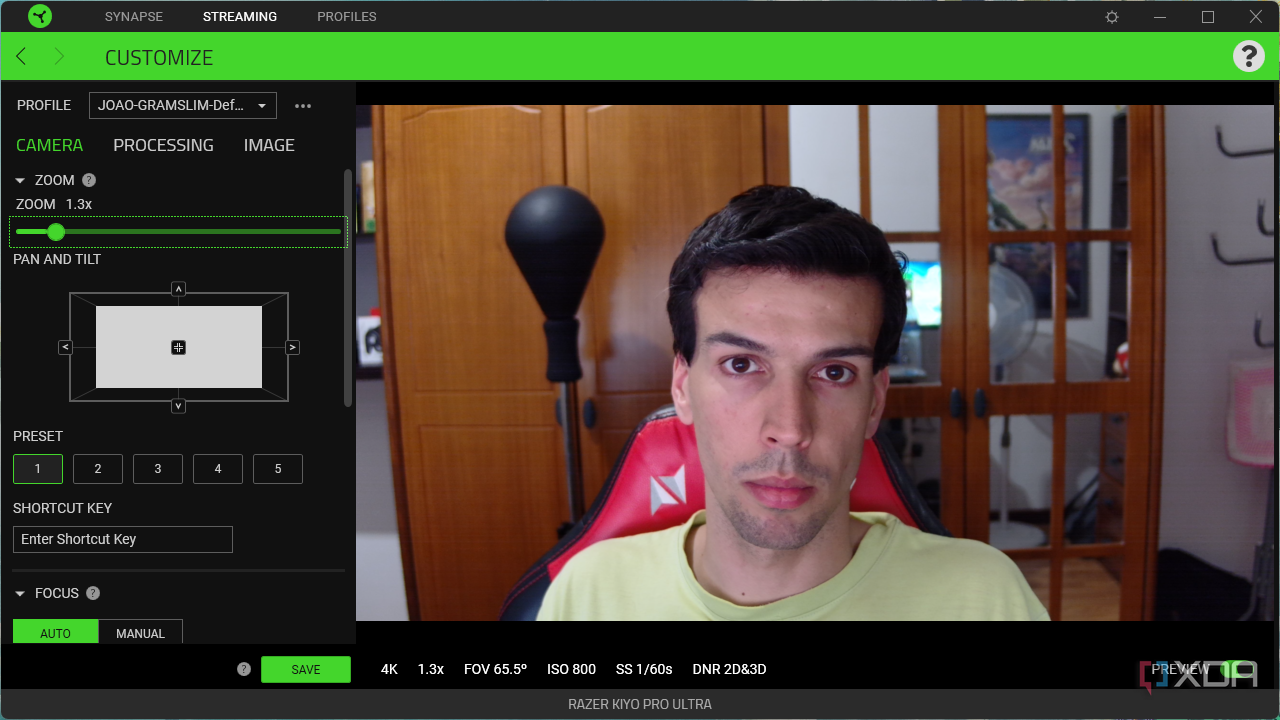 One big thing that stands out here, though, is that there's no face-tracking zoom. Many laptop cameras now have face tracking zoom, which takes the image for the full sensor and crops it in the frame to keep your face centered. You can manually adjust the framing once you've zoomed in, but there's no face tracking for this.
the The Processing tab is related to encoding quality, but also post-processing features like HDR, lens distortion compensation, low-light compensation, and noise reduction. It's crazy to have a webcam that needs to compensate for lens distortion, but that's how big this sensor is. You get a fish eye effect if you disable this, and it is enabled by default. However, you need to disable it to use the 4K resolution and zoom capabilities at the same time.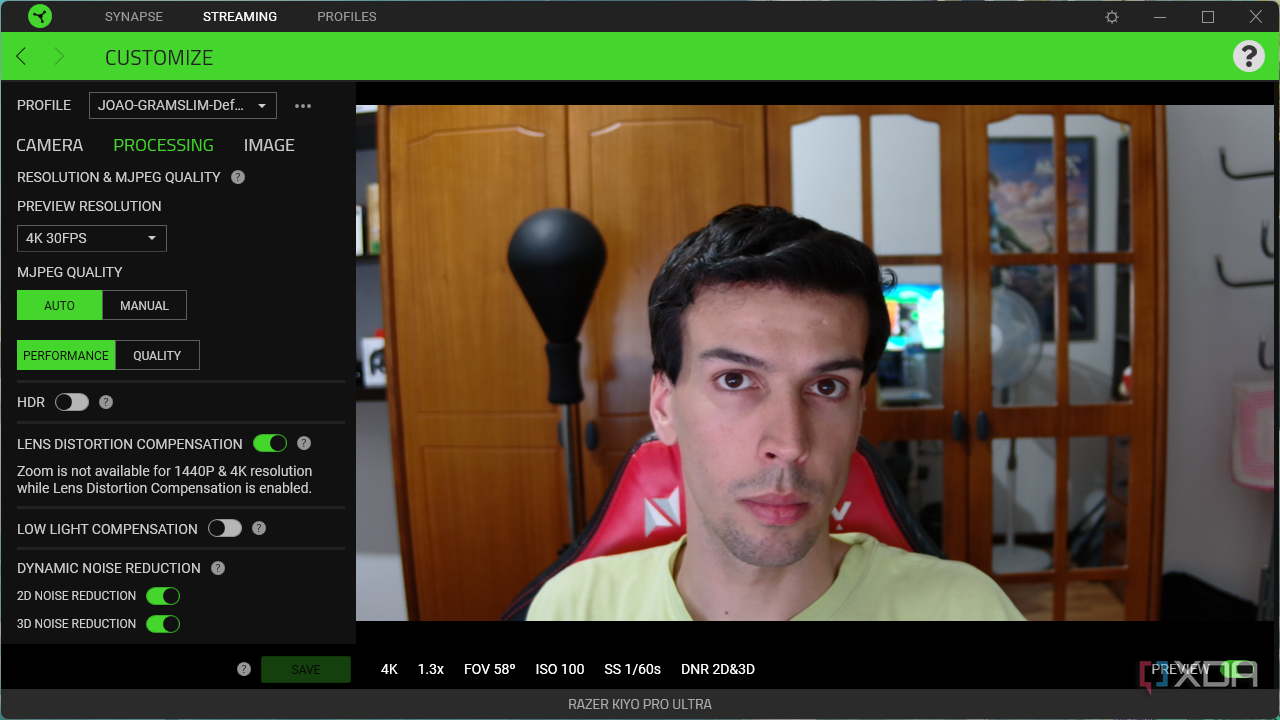 Finally, the Image tab changes basic settings for the final image, such as brightness, contrast, saturation, and white balance.
I wish Windows Hello support was available with such a large sensor, but this device is as expensive as it gets.
Should you buy the Razer Kiyo Pro Ultra?
You should buy the Razer Kiyo Pro Ultra if:
You want the absolute best possible image quality in a webcam
You can broadcast or take calls in low-light scenarios
You have $300 to spend on a webcam
You should not buy the Razer Kiyo Pro Ultra if:
You move in front of the camera frequently
You want features like auto zoom or tracking
You are installing it on a laptop without a solid hinge
In terms of image quality, the Razer Kiyo Pro Ultra is undoubtedly the best webcam on the market. Photos look incredibly sharp and clear, and it handles low-light scenarios like a champ. However, the autofocus issues make it a little difficult to justify that incredibly high $300 price tag. If you're mostly fixed to the webcam, it's probably not a big deal, and the image quality you get in return is pretty impressive.
If you asked me to pick a webcam for $300, my money would still be on the Insta360 Link. I see more value in the face tracking and flexibility of this webcam, and while the differences in image quality are obvious, they're not significant enough to compensate. I also find it less frustrating to use due to the autofocus issue plaguing the Kiyo Pro Ultra. With that being said, this is a totally great webcam, and you're not likely to be disappointed with its quality.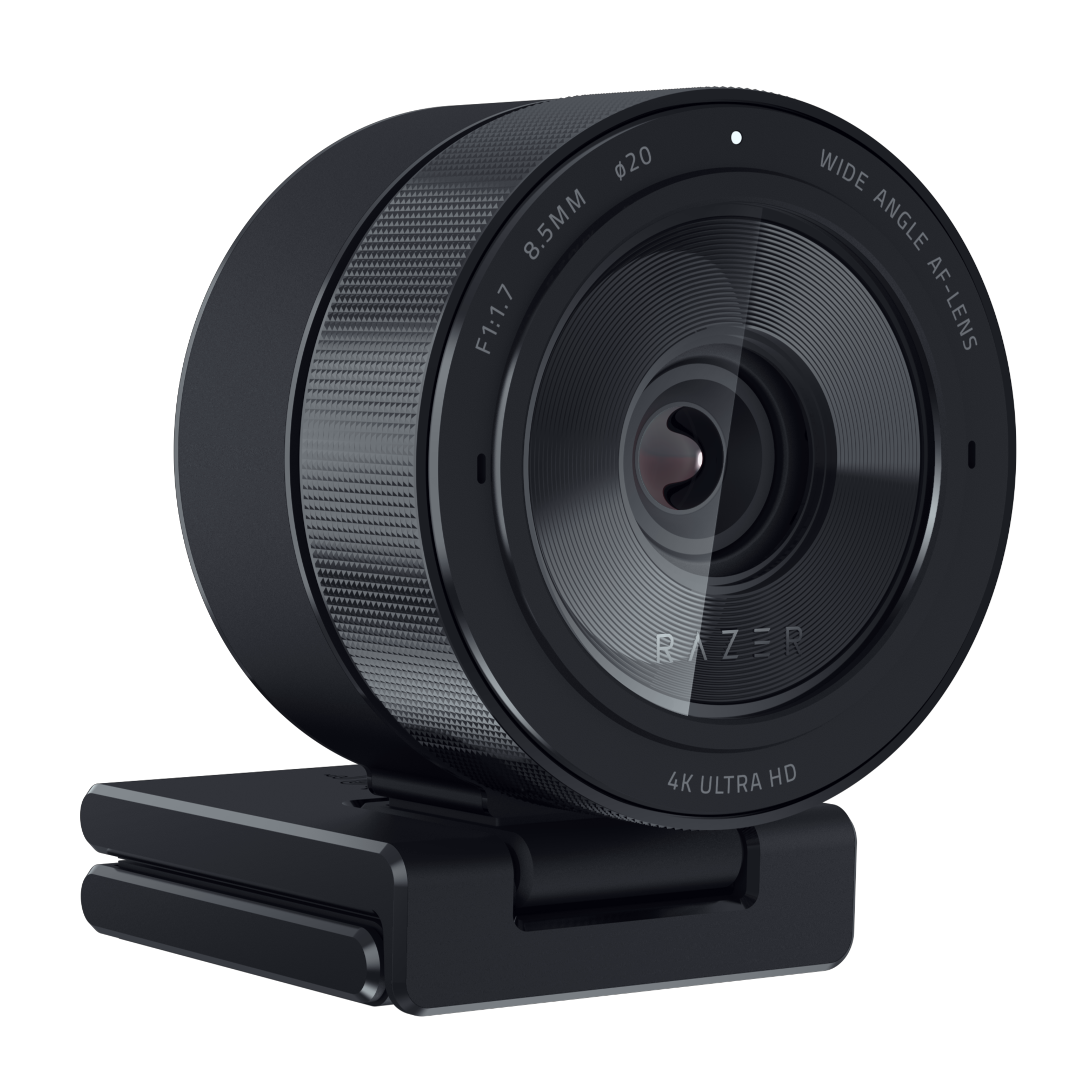 Razer QPro Ultra
The best
The Razer Kiyo Pro Ultra has the largest sensor of any webcam on the market, and produces excellent image and video quality. It even performs well in low light, though autofocus issues keep it from being perfect.