Entertainment
Twitter user narrates how his dad married his side chick just 9 months after his mom passed away
A Twitter user, Scott Millen, has shared how his father moved on and remarried just nine months after his mother died.
Scott, who shared the story on the microblogging platform, revealed that his father remarried on Sunday, July 2, 2023, only nine months after his mother passed away from pancreatic cancer.
According to Scott, his father married the woman he had been dating while his mother was battling cancer.
"Mom died in October last year, and today Dad married his longtime girlfriend—the woman he was with while my mom suffered from pancreatic cancer. They remained married until the day she died, and now he has remarried. Tonight, let's raise a toast to Mom, Marcia Hanson. She existed," he tweeted.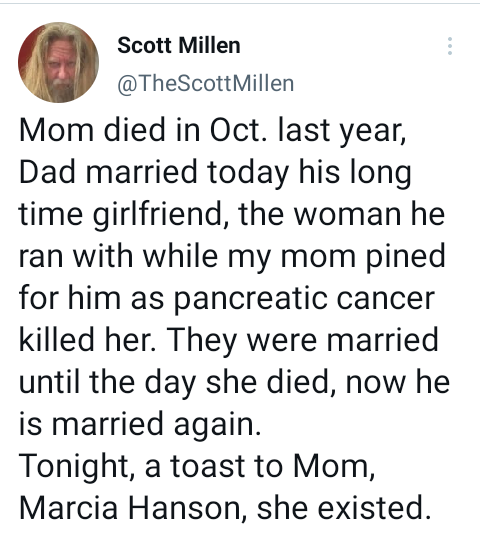 In other news, a woman identified as Denise Rossi who divorced her husband after winning N1.5 billion has been ordered by the court to give her ex-husband all of the money.
The lady, who lives in the US, was forced to give her ex-husband her N1.5 billion lottery winning after she tried to conceal it from him during their divorce.
Denise won the jackpot 11 days before she filed for divorce from Thomas Rossi, her husband of 25 years, and kept her earnings to herself during the divorce proceedings by not disclosing them to him or the judge.
When a letter from a firm that compensated lottery winners was accidentally delivered to Thomas's apartment two years after their divorce, her plan went awry.
When Thomas learned that his ex-wife had won N1.5 billion in the California State Lottery and was earning N25 million year, he was astounded.
He filed a lawsuit against her for failing to disclose her assets to the state as well as for acting dishonestly and maliciously.
The whole lottery winnings from Denise were given to Thomas when a Los Angeles family court judge sided with him.
The judge stated that if Denise had been honest from the beginning, she would have been able to keep half of the money, but by hiding it, she forfeited her claim to it.