Uncovering the Absence – Why Mike Johnson's 'Adopted' Black Son Opts for Privacy. In an unexpected turn of events, newly-elected House Speaker Mike Johnson, a prominent right-wing figure, has an adult "adopted" Black son. However, his son's absence from public life has prompted interest and worries. Let's look into the story and see why his kid has opted to keep a low profile.
Highlights: Unveiling Mike Johnson's 'Adopted' Black Son
Unique Family Story: Explore the surprising revelation of House Speaker Mike Johnson and his adult "adopted" Black son.
The Absence Mystery: Discover why Michael, Johnson's son, maintains a low profile in public life, sparking curiosity.
Official Explanation: Johnson's communications director sheds light on Michael's decision to stay out of the public eye.
'Unofficial' Adoption: Learn about the interesting detail that Johnson did not formally adopt Michael.
Shared Perspective on Reparations: Understand how Johnson and his son view the issue of reparations for slavery.
Comparing Life Experiences: Delve into the disparities in the experiences of Johnson's two sons and their response to social issues.
Johnson's Rapid Ascent: Explore the sudden rise of Mike Johnson to become the House Speaker and the scrutiny of his personal life.
Respecting Privacy: Highlight the importance of respecting Michael's privacy and the uniqueness of every family's narrative.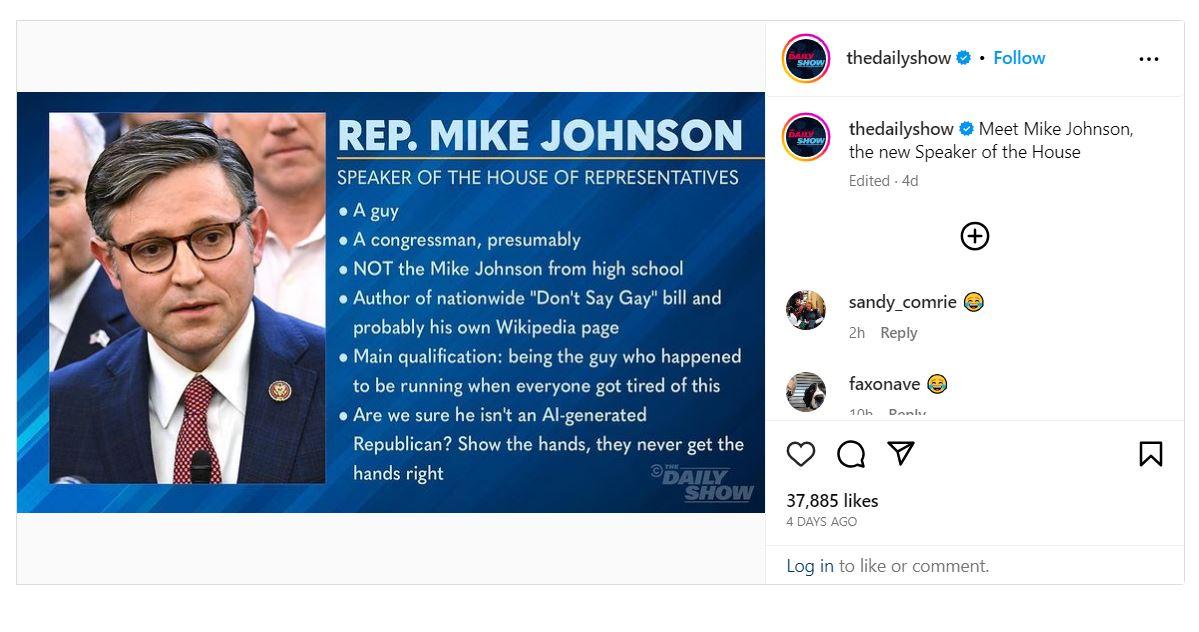 A One-of-a-Kind Family Story
Mike Johnson and his wife adopted a Black teenager called Michael and reared him as their son 24 years ago. While this may sound similar to the happy story featured in Sandra Bullock's film "The Blind Side," there is more to this story.
An Open Mystery
Michael was glaringly absent from Johnson's public life, including family pictures published on Johnson's official website, as observers remarked.
An Official Justification
In a response to Newsweek, Corinne Day, Johnson's communications director, clarified Michael's absence. She revealed that when Johnson was elected to Congress in 2016, Michael was an adult with his own family. Michael indicated his desire not to be involved in their new public life at the time. Johnson has admired this sentiment throughout his political career and remains close to Michael to this day.
4.'Unofficial' Adoption
Johnson, despite raising Michael as his own, did not formally adopt him due to the lengthy adoption process.
A Common View on Reparations
Johnson underlined his understanding of discrimination through his encounters with Michael in 2019 when speaking against reparations for slavery in front of a House committee. He explained that his son was against reparations because it went against an "important tradition of self-reliance.
Life Experiences Comparison
Johnson has emphasized the differences between Michael's and his oldest biological son, Jack's, life experiences. He emphasized these distinctions in the aftermath of George Floyd's murder in 2020.
Johnson's Rapid Ascension

Mike Johnson's meteoric climb to the position of House Speaker has raised scrutiny of his personal life. His remarks about racism and his views on his two sons' experiences have sparked controversy and debate.
Michael's Private Life
While Michael's disappearance has created concerns, it is critical that his privacy and personal choices be respected. Johnson's journey with his "adopted" son is a complex and one-of-a-kind story that highlights the diversity of American families.
Finally, Mike Johnson's 'adopted' Black son's narrative emphasizes the complications of family, identity, and privacy in the public glare. It serves as a reminder that each family has its own story to tell, and that respect for individual choices is essential.
Who is Mike Johnson?
Mike Johnson is a well-known American politician who currently serves in the United States House of Representatives. He represents Louisiana's 4th congressional district and is a prominent figure in conservative politics.
Here's a rundown of Mike Johnson:
Early Life and Education: Mike Johnson was born in Shreveport, Louisiana, on October 30, 1972. He attended Louisiana State University and graduated with a Bachelor of Arts in Journalism. Following that, he attended Louisiana State University's Paul M. Hebert Law Center, where he earned his Juris Doctor degree.
Mike Johnson had a successful legal career before entering the political arena. He was an attorney who specialized in constitutional law and religious liberty. His legal background will subsequently play an important role in his political career.
Mike Johnson's political career began in 2015, when he was elected to the Louisiana House of Representatives. During his time in the Louisiana House, he was recognized for his conservative values, strong support for religious freedom, and commitment to constitutional rights.
Johnson campaigned for the United States House of Representatives in 2016 and was elected to represent Louisiana's 4th congressional district. He was re-elected and is still a key figure in the Republican Party.
Mike Johnson is a family man who is married to Kelly Segura Johnson. Hannah, Abigail, Jack, and Will are their four children. The attention, however, frequently falls on his adult "adopted" Black son, Michael, who has become a public figure.
Johnson is recognized for his deep religious values and frequently cites his Christian religion as a guiding force in his political judgments. He has ties to Christian rights organizations such as the Alliance Defending Freedom.
Notable Statements and Positions: Mike Johnson has been an outspoken supporter of conservative values such as religious liberty and the safeguarding of First Amendment rights. He has spoken out against reparations for slavery, noting the need for self-sufficiency.
Johnson's remarks on race and racism have sparked controversy, notably his remarks about his son Michael's life as a Black American.
Mike Johnson was elected Speaker of the United States House of Representatives in a major turn of events. His appointment to this office was a watershed moment in his political career.
Recent Controversy: Mike Johnson attracted criticism for his adult "adopted" son Michael's withdrawal from public life, raising issues about their relationship and his son's decision to remain quiet. Johnson's communications director issued an official statement in response to the situation.
Mike Johnson's political career, strong conservative positions, and unique family narrative have elevated him to prominence in American politics, notably within the Republican Party.
Related