Trending Today
Jonas Blue Steals the Spotlight at Shillong Cherry Blossom Festival 2023
From November 17th to the 19th, 2023, the Shillong Cherry Blossom Festival, an event honoring cultural prowess in Northeast India, was the site of an extraordinary musical extravaganza.
The event, which was graced by international superstars Ne-Yo and Ronan Keating, also featured notable appearances by SANAM, a pop-rock phenomenon, dance music prodigy Jonas Blue, and other skilled local artists.
Highlights
Global Musical Extravaganza: Shillong Cherry Blossom Festival 2023 showcased a diverse and influential lineup of artists, including Ne-Yo, Ronan Keating, SANAM, and Jonas Blue, fostering cultural excellence in Northeast India.
Dazzling Performances: Ne-Yo headlined the festival with a mesmerizing performance, overcoming the setback of rain on Day 1. Jonas Blue, known for his EDM hits, brought his signature beats, while Ronan Keating and SANAM delivered unforgettable acts on the grand finale.
Celebrity Style Evolution: Joe Jonas stole the spotlight at the American Music Awards with a bold transformation—debuting merman-inspired blue hair. The singer's eye-catching look added a splash of vibrant colors to the red carpet.
Local Talent Showcase: In addition to international sensations, the festival celebrated the talent of Northeast India, featuring legendary artists like Lou Majaw, Blue Temptation, Da Minot, Nokpante, Rhem, and Hoap, enriching the cultural tapestry of the region.
Cherry Blossom Backdrop: The picturesque venue, adorned with cherry blossoms, provided a stunning backdrop for the performances, creating a visually enchanting ambiance that complemented the musical festivities.
Cultural Blend: The festival's unique blend of international and local talent solidified its status as a cultural extravaganza, offering a harmonious fusion of global musical prowess and regional richness.
Spectacular Finale: The closing act, featuring Ronan Keating, Jonas Blue, and SANAM, transformed the festival into an electrifying spectacle, leaving the audience in awe and making it an unforgettable experience.
Unprecedented Turnout: Despite initial challenges, the festival drew music enthusiasts from far and wide, emphasizing its significance as a cultural and musical landmark in Northeast India.
DNCE's Joe Jonas: The festival brought attention to Joe Jonas and his band DNCE, currently on tour, highlighting his evolving style with vibrant ocean-inspired hair color, making waves at the American Music Awards.
Cultural Legacy: Shillong Cherry Blossom Festival 2023 left an indelible mark on the cultural and musical landscape of Northeast India, reinforcing its reputation as a premier event that celebrates both global and local talent.
The festival commenced with Zoom-facilitated discussions that showcased prominent figures from the industry, including Ne-Yo, Hybrid Theory, and Sanam.
Ne-Yo and Ronan Keating captivated the audience with their iconic compositions as they occupied the center stage. Renowned for his contributions to the dance/EDM scene, Jonas Blue enhanced the appeal with a performance that captivated the audience and kept them on their feet.
Nevertheless, the excitement continued. Joe Jonas, whose band DNCE was creating a stir, stunned fans at the American Music Awards with a daring new hairstyle inspired by Mermaids and Dolphins.
Mad how much love Perfect Strangers still gets 5 years on all over the world ???? pic.twitter.com/mdr6ttLGXZ

— Jonas Blue (@JonasBlue) November 18, 2023
The charismatic singer, who recently ended his relationship with Gigi Hadid and began a solo career, exhibited his distinctive sense of style on the red carpet by donning a vivid combination of blue and green tones.
As the closing acts for the festival, Ronan Keating and SANAM performed the festival's grand finale. Former co-lead singer of Boyzone Ronan Keating performed for thousands his timeless hits, including 'When You Say Nothing at All' and 'If Tomorrow Never Comes.' Jonas Blue, meanwhile, contributed his signature EDM beats to the atmosphere, which was positively charged.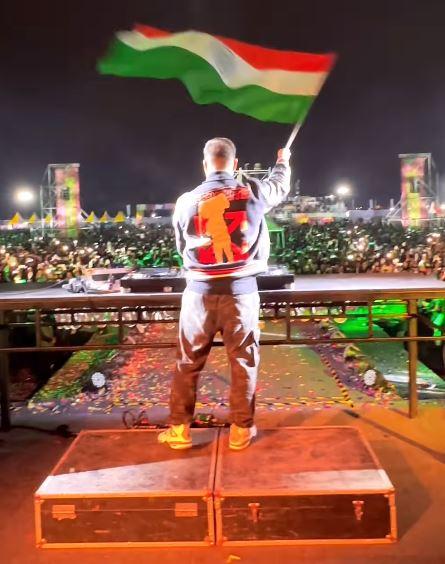 The festival featured a diverse array of local artists, such as renowned figures Lou Majaw, Blue Temptation, Da Minot, Nokpante, Rhem, and Hoap, who contributed significantly to the region's cultural tapestry.
The aesthetic appeal of the cherry blossom backdrop significantly augmented the overall ambiance, providing attendees with a visual and auditory delight.
Although the festival was initially hindered by rain on Day 1, it recovered with the headlining performance of Ne-Yo on Saturday evening.
The concluding day of the third day held great potential, attracting music aficionados from various locations. The distinctive convergence of local and international artists has established the Shillong Cherry Blossom Festival as a cultural extravaganza, providing an unparalleled fusion of indigenous cultural wealth and international musical excellence.
With the performances of Jonas Blue, Ronan Keating, and SANAM, the festival underwent a metamorphosis into an indelible extravaganza, inducing a strong desire in the audience.
INDIA IT'S BEEN 4 YEARS SINCE I WAS LAST HERE… WHAT A MOMENT THIS WAS TONIGHT. THANK YOU ???????????????????? pic.twitter.com/S2yk0XlPMJ

— Jonas Blue (@JonasBlue) November 20, 2023
The Shillong Cherry Blossom Festival 2023 has undeniably made a lasting impact on the cultural and musical milieu of Northeast India through its dynamic fusion of artistic expressions and genres.
Jonas Blue: A Musical Journey
Jonas Blue, whose stage name is Guy James Robin, has made a lasting impact on the music industry through his innovative fusion of dance and pop compositions. Staley Blue, who was born in London on August 2, 1989, has had an extraordinary journey in the music industry.
Early Life
Jonas Blue's formative years served as a catalyst for his subsequent musical trajectory. Brought up with a fervor for rhythms and melodies, he demonstrated an early fascination with the craft of sound design. Dedication and inherent ability laid the foundation for an auspicious career in the music industry.
Breakthrough with "Fast Car"
Blue rose to prominence in 2015 with the release of his breakthrough single, a tropical house rendition of "Fast Car," a 1988 Tracy Chapman classic. Dakota contributed her vocals to the composition, which not only peaked at number two on the UK Singles Chart but also attained triumphs abroad, including number-one positions in Germany, Sweden, Australia, and New Zealand.
Chart-Topping Success
After the commercial triumph of "Fast Car," Jonas Blue maintained his position atop the music charts. The single "Perfect Strangers," which featured JP Cooper, attained platinum certifications in both the United Kingdom and Australia, securing a prominent position on the UK Singles Chart. Blue's versatility in music production was further demonstrated with the collaboration with British singer Raye on "By Your Side," which sustained the momentum.
Musical Development
The progression of Blue's music was apparent in subsequent albums. "Mama," which featured Australian singer William Singe and was released on May 5, 2017, peaked at number four on the UK Singles Chart. His versatility was demonstrated by the way in which he effortlessly fused genres and collaborated with a wide range of artists, which contributed to his expanding influence in the industry.
Anthology Album
The compilation album "Jonas Blue: Electronic Nature – The Mix 2017," which was released in July 2017, serves as evidence of Jonas Blue's pioneering status within the electronic and dance music niche. In addition to showcasing his successful singles, the album firmly established him as an authority on curating musical experiences.
Effects and Legacies
The ongoing trajectory of Jonas Blue's career solidifies his enduring legacy and profound influence within the music industry. Owing to his platinum certifications, chart-topping singles, and exceptional ability to connect with audiences around the world, he exemplifies the strength of innovation and originality in the constantly evolving music industry.
Jonas Blue has traveled from a period of musical experimentation in his youth to the pinnacle of the charts; his journey is a riveting account of ingenuity, passion, and musical prowess. With anticipation abounding, the global community awaits with great interest the forthcoming installment in Jonas Blue's musical odyssey.
Related